Serbian football's latest embarrassment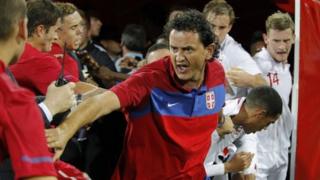 Serbia's football team is only six years old, but the on-pitch scuffles and alleged racist chanting at its Under-21 home defeat to England on Tuesday is only its latest embarrassment.
In that short period it has attracted an unenviable collection of negative headlines.
At the European Under-21 Championship in 2007, officials from the regional governing body Uefa had to address Serbian fans during their team's match against England.
They appealed for a halt to racist chants which appeared to be aimed at England defender Nedum Onuoha.
Two years ago the senior team's European Championship qualifying match in Italy came to a chaotic end after just seven minutes.
Serbian fans had been throwing flares both into the stands and on to the pitch and, fearful for the safety of the players, the referee abandoned the match.
Certain fan groups had organised the disruption as a protest against Serbia's goalkeeper Vladimir Stojkovic.
The former Red Star player had just joined Belgrade's other big side, Partizan - and his punishment for this supposed betrayal was to be hit by at least one firework from the crowd.
It was a shameful incident, and the Serbian football association's protests against Uefa's decision to award Italy a 3-0 victory only added to the embarrassment.
'Hellgrade'
The two incidents helped to form a caricature of Serbia as the bad boys of European football. Indeed some supporters' groups appear revel in the image.
Partizan's main fan organisation is called The Gravediggers and welcomes visiting supporters to "Hellgrade".
But many Serbians are deeply embarrassed by such behaviour.
They feel their country has been on the receiving end of quite enough negative PR during the Balkan conflicts of the 1990s, and would dearly like to portray a different image.
They were hoping Tuesday's match in Krusevac would proceed without any off-the-pitch incidents.
But some England players reported hearing abusive chants as early as the pre-match warm-up. And the mood worsened when Conor Wickham scored the injury-time goal which confirmed Serbia's elimination from the competition.
England defender Danny Rose reacted to alleged racist chants from the crowd - first by kicking a ball into a group of Serbian supporters (for which he received a second yellow card), then by making "monkey" gestures himself.
When members of Serbia's coaching staff got involved with physical confrontations with their England counterparts, it put the bitter icing on a particularly unpalatable cake.
The former England captain Paul Ince said he wanted Serbia to be banned from international competition - a demand echoed by the chairman of the Professional Footballers Association, Clarke Carlisle.
Prime Minister David Cameron called for "tough sanctions" if allegations of racism were proved.
EU ambitions
But there has been anguish in Serbia as well. Popular tabloid Blic has put footage of the chaos on its website under the headline: "Serbian Shame: See Racist Riot In Krusevac!"
Radio station B92 called the events a "scandal".
Other recent events in Serbia have painted a picture of a country that has been too tolerant of extremist groups.
This month's proposed gay pride march in Belgrade was banned by the authorities after ultra-nationalist movements threatened participants.
Prime Minister Ivica Dacic called the cancellation "a victory for Serbia". Human rights groups said the government had caved in to hooligans.
Other minority groups within the country have faced discrimination.
The football violence on Tuesday coincided with the release of an Amnesty International report asking the government to stop the regular forced evictions of Roma communities.
None of this is helping Serbia's long-standing aim of joining the European Union.
Relations with Kosovo have long been seen as the main stumbling block to membership, but members of the European Parliament have already expressed their dismay at the gay pride ban - and the events in the Krusevac stadium will have added to their concerns.
They will not be the only people hoping that the Serbian authorities take action - after six years of havoc in football stadiums at home and abroad.