Antoine Sollacaro shooting: France targets Corsica gangs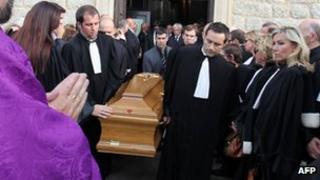 French Prime Minister Jean-Marc Ayrault has announced new measures to tackle organised crime in Corsica.
The move comes six days after the murder of a prominent lawyer, shot in his car on his way to work.
Mr Ayrault said emphasis would be placed on fighting money-laundering and racketeering by criminal gangs, notably in property development.
Gang warfare on Corsica has resulted in the island having the highest murder rate in Europe.
"Business and financial affairs are behind most of the homicides," Mr Ayrault said.
He also promised police would be given more resources to "identify mafia networks and investigate the movement of assets and irregular financial transactions".
Critics say organised crime has flourished in Corsica because there is little coordination between the different branches of the security services.
Mr Ayrault has promised to address this failing. He is to establish a system of regular meetings in a bid to speed up investigations.
Antoine Sollacaro, a lawyer who was a leading figure in the Corsican nationalist movement, was shot dead six days ago.
He was the 15th person to be murdered on the island this year.
Since the start of 2011 there have been 37 murders and 117 attempted murders, more per capita than anywhere else in Europe.
Luxury cars
The chief prosecutor on the island, Xavier Bonhomme, has told French media nearly all the killings are directly related to organised crime.
He said it had proved difficult to prosecute murders because of an unwillingness to give evidence in court, blamed on a very strong code of silence, grounded part in tradition and part in fear.
Mr Bonhomme said that, to solve Corsica's problems, resources had to be concentrated on the investigation of the finances behind the criminal activity.
He claimed that there were too many luxury cars on the island for its relatively small official financial output.
Gangsters are thought to be making large investments in property both in Corsica and on the mainland.
To date, investigations had been limited to the crimes themselves, and had not reached the source of the vast amounts of dirty cash the criminals were handling, Mr Bonhomme added.