Greece gets investment from Russia with love
By Giorgos Christides
Thessaloniki, Greece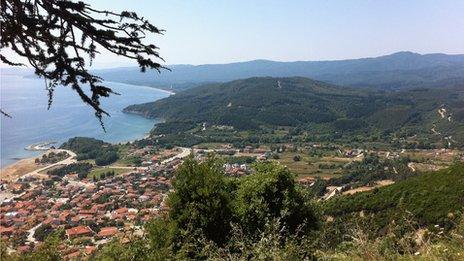 Cash-strapped, debt-laden Greece may look like the sick man of Europe to its eurozone partners, but for rich Russians it still has many charms.
Zepko is an idyllic, undeveloped location in the eastern corner of Halkidiki, a peninsula in northern Greece blessed with secluded beaches, azure waters and pine forests.
When Zepko's owners, all retired military officers, started looking for a buyer, two Russian companies came knocking.
At a time when foreign and domestic capital is fleeing Greece, the Moscow- and St Petersburg-based companies submitted rival bids of 200m euros (£163m; $260m) each to acquire the land and turn it into a luxury holiday resort. The officers could pocket 40m euros for the land alone if the deal goes ahead.
Giorgos Giakoumakos heads the landowners' group - the Holiday and Real Estate Association of Retired Military Personnel of Macedonia and Thrace.
He says Russians are interested because of "the gorgeous location", because it is not far from Greece's second city Thessaloniki, with good flight connections to Russia, and because Russians are Orthodox Christians, like the Greeks.
He points out that Zepko, boasting 1,942 hectares (4,800 acres) of land and a kilometre-long pristine beach, is near both Stagira, birthplace of Aristotle, and the Orthodox monastic community of Mount Athos.
Earlier this month a Greek-origin Russian businessman, Ivan Savvidi, claimed that Greece only had to give the green light and Russian money would come pouring in.
"If Greece asks the Russian business community then I can tell you that by October next year Greece will have become a prosperous country," he said. "Russia has not turned its back on Greece in a thousand years - it certainly will not now."
He was previously a deputy in Russia's State Duma, the lower house of parliament, in the dominant party - President Vladimir Putin's United Russia.
In August Mr Savvidi became the majority shareholder in PAOK FC, Thessaloniki's top football club and a power in the Greek league, but beset by financial woes until he came along.
Russian investment in northern Greece, and particularly Halkidiki, is providing some comfort for a region devastated by the economic crisis. The investments range from luxurious villas and more modest holiday homes to hotels, dairies, ports and energy infrastructure.
Gregoris Tassios, chairman of Halkidiki's Hotel Association, says "there is great interest from Russia for the purchase of land, businesses, summer houses and hotels, and tourist numbers are rapidly rising".
Since 2008, eight hotels in Halkidiki have been acquired by Russian interests and Greek-Russian joint ventures.
According to the Hellenic-Russian Chamber of Commerce, 7% of the Russian tourists visiting Greece are interested in buying a holiday home, which translates into 31,000 sales annually.
Russian tourism to Halkidiki is second only to the Germans, whereas only five years ago the Russians were in fifth place.
Mr Tassios says that "Orthodoxy and Mount Athos, the historic bonds between the two countries, the proximity of Thessaloniki and the long presence of Pontic Greeks in Russia are all contributing to this trend".
But Russians are tough negotiators, he adds. "They know the market is depressed and therefore ask for discounts of 30% on everything that attracts their interest."
Mount Athos is a major attraction for Russians. This monastic, male-only community is one of Orthodox Christianity's holiest sites. Russian President Vladimir Putin made a pilgrimage there in 2005.
Eleftherios Meletlidis, a hotelier near Mount Athos, says Russian visitors have increased ten-fold since 2002.
"The Russian market is huge. They are Orthodox, they love Greece. The proximity to Mount Athos is key, since Russians are very devout, much more so than Greeks," he says.
Besides tourism, Russians were the preferred buyers of a majority stake in the state-controlled dairy Dodoni. Russian energy giants are interested in the Greek natural gas company and there is said to be Russian interest in the port of Thessaloniki and Greece's loss-making railways.
According to Mr Savvidi - who is a friend of President Putin - Greece missed an historic opportunity, when the crisis erupted, to strike a better rescue deal than the one it now has with the troika of lenders - the EU Commission, International Monetary Fund and European Central Bank.
"Two years ago, when [then Greek PM] George Papandreou met Vladimir Putin, the Russian side was ready to help; but Athens did not raise the issue", he said.
He believes that Russian help would have spared Greece its "loss of freedom and sovereignty". He is however hopeful that the new government will prove keener to build a closer relationship with Moscow.
"The crucial issue is not to waste any more time. I am positive that Russia will not sit idly by. I'm doing all I can to support my ancestral land."
Despite Greece's membership of the EU and Nato, its friendship with Russia goes back a long way.
Count Ioannis Kapodistrias, a Greek diplomat who served as imperial Russia's foreign minister, was elected in 1827 as Greece's first governor following independence from the Ottoman Empire.
During the independence war and nation-building, the aptly named "Russian party" was also one of the nascent nation's major political forces.
Where once Russia schemed to undermine the Ottoman Turks, its influence now spreads more through business deals.
Related Internet Links
The BBC is not responsible for the content of external sites.