NAMA denies claim by ex-IRA man Thomas McFeely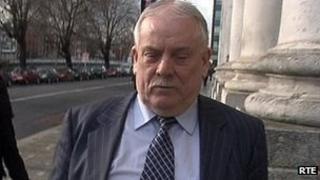 The agency set up to tackle the Irish banking crisis has denied it offered accommodation to a former IRA hunger striker after repossessing his home.
The claim against the National Assets Management Agency (NAMA) was made at Dublin's High Court by ex-prisoner and bankrupt developer Thomas McFeely.
Mr McFeely is attempting to appeal the repossession of his south Dublin home.
In August, the court ordered his family to move out because of a default on a 9.5m euros (£7.47m) mortgage.
'Untrue'
NAMA - which was created by the Irish government to purge problem loans from various banks in the Republic - has taken over the mortgage on Mr McFeely's home at Ailesbury Road, Ballsbridge.
In court on Monday, the former property developer claimed his wife and children are on the side of the road because of what he alleged were "lies".
Addressing the courtroom himself, Mr McFeely held up a photograph of a house that he claimed NAMA lawyers told him he could live in.
A spokesperson for NAMA has said the claim was "simply untrue".
Mr McFeely is a former IRA member from Dungiven in County Londonderry who was jailed for shooting an RUC police officer.
He spent 53 days on hunger strike in the Maze Prison in 1980.
'British subject'
In recent years he has been involved in property development, but in July, he was declared bankrupt at Dublin's High Court.
During the previous bankruptcy proceedings, he claimed he was a British subject who should not be subjected to the Republic of Ireland's "punitive" bankruptcy rules.
However, Ms Justice Elizabeth Dunne ruled that Mr McFeely's centre of main interest was in the Republic of Ireland rather than the UK as he had claimed.
Mr McFeely is also the developer behind Dublin's Priory Hall complex which was at the centre of another court case.
In October 2011, more than 240 residents of the Priory Hall apartments were moved out of their homes.
The action was ordered by a court which heard that safety regulation breaches were so serious, a fire could spread through the whole building in minutes.