Pope butler 'helper' Claudio Sciarpelletti to be tried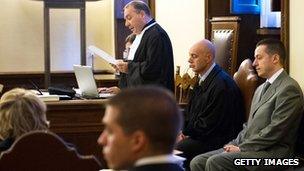 A computer expert is due to go on trial on 5 November for aiding and abetting the Pope's former butler to steal papal documents, the Vatican has announced.
Claudio Sciarpelletti is accused of helping Paolo Gabriele while working as a computer technician in the Vatican's Secretariat of State.
Gabriele was given an 18-month prison sentence earlier this month.
He admitted passing documents to a journalist, but said he did it out of love for the church and the Pope.
The former butler is currently serving his sentence under house arrest in his Vatican apartment amid talk that he may be pardoned by Pope Benedict.
Gabriele's trial heard that he had used the photocopier in his shared office next to the Pope's library to copy thousands of documents, taking advantage of his unrivalled access to the pontiff.
He later passed some of the documents to journalist Gianluigi Nuzzi, who released a best-selling book about corruption, scandals and infighting at the Vatican, largely based on the confidential papers.
Its publication sparked the hunt for the source of the leaks inside the Vatican.
Gabriele confessed to taking the papers, but said he believed the Pope was being manipulated and hoped to reveal alleged corruption at the Vatican.
He told his trial that he did not see himself as a thief, but admitted he was guilty of "having betrayed the trust of the Holy Father, whom I love as a son would."