St Petersburg probe into 'insulting' migrants leaflet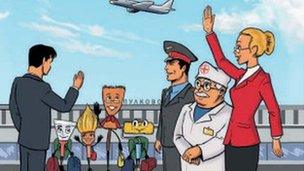 Authorities in St Petersburg say they will investigate the origin of an advice leaflet for migrants which has been called offensive.
The leaflet, printed by a non-governmental organisation and used by city authorities, depicted migrants as cartoon paint-brushes and brooms.
Officials from Tajikistan's foreign ministry described it as "insulting".
Thousands of migrants from Central Asia live in Russia's big cities, many carrying out manual work.
The leaflet, which was printed in several Central Asian languages, shows migrants - in the shape of cartoon tools - being greeted by human beings in Russian uniforms at St Petersburg's main airport.
"Not all the migrant workers from Central Asia are cleaners or freight lifters," said Jamila Begieva, head of the Kyrgyz migrants' organisation Ala Too.
"For example, 70% of migrants from Kyrgyzstan are university graduates... Drawing them as brooms and brushes is insulting them," she added.
The St Petersburg city authorities said that they would investigate how the leaflets originated.
City officials have been quoted as saying the leaflets will no longer be used. It is not clear how widely the leaflets were distributed.
However, Alexey Khmirov, head of the organisation which published the leaflets, defended them.
"Let's face the reality. We were reflecting the jobs in this market. Since when did the jobs of a painter, bricklayer or cleaner become insulting?" he said.
"It would be a mistake to say that migrants are working in nuclear enterprises or the computer technology industry," he went on.