Irish Protestant schools' fears over subsidies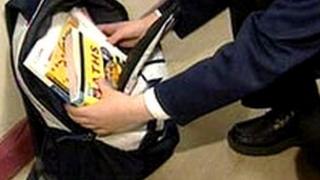 The Irish Republic's state subsidy of private schools is in the spotlight ahead of a budget in which millions of euros worth of cuts must be made in funding to the education sector.
Free secondary education was introduced in the Republic in 1967.
But, constitutionally barred from distinguishing between religions, the Republic provides a subsidy to all fee-paying schools.
The Irish state gives 96m euros to fee-paying schools to pay teachers.
The principal of Wesley College in south Dublin, a Methodist-run secondary school, has said cuts will have a disproportionate impact on his school because its pupils are drawn from a wider socio-economic base than a typical Catholic fee-paying school.
"What we really fear is that year by year there will be a smaller increase in the pupil teacher ratio so that no new state-paid teachers would be appointed in Protestant fee charging schools," Christopher Woods said.
"Irrespective of the decisions of individual schools, the face of Protestant secondary education in the Republic would be changed forever."
Last year's Budget increased the pupil-teacher ratio in all fee-paying schools from 20:1 to 21:1, a cut not imposed on most schools in the state system.
Ahead of Budget 2013, the Republic's Education Department is carrying out an audit of government funding to all private schools.
Of the 55 fee-paying schools in the state, 20 have a Protestant ethos.
"There are some very rich Protestant schools, typically in south Dublin, not all of their pupils would necessarily be traditionally from the Protestant community, and there are some very poor Protestant schools, typically in isolated rural areas," said the Republic's minister for education, Ruairi Quinn.
"We are literally at the point of looking at what would the impact be if we were to try and reduce the allocation of resources to those schools."
Not all members of the Protestant faith agree with the principle of providing a subsidy to private schools.
"As a member of the Church of Ireland, I would be happy to support the minister if he removed the subvention which private fee-paying schools receive" said Robert Dowds, a Labour Party TD.
"I favour equality in education and if state money is going into a school my view would be that it should be a public school."
1960s legacy
The Republic's subsidy to private education is a legacy from the 1960s.
"The funding structure was put in place because Protestant schools did not have the benefit of a celibate religious workforce, but nor does the Catholic system have anymore," said journalist Victoria White.
"I don't believe that fee-paying Protestant schools should get double funding, I believe that if any fee-paying schools want to encourage diversity they should drop their fees and go into the free scheme."
Victoria White is the daughter of Jack White who, in 1974, published a book on Protestants in the Republic called Minority Report.
"My father was very concerned for the survival of the Protestant minority because he was concerned for the survival of minorities. He felt that it was important that there would be diversity," she said.
"My concept of diversity is completely different; my father could not have possibly imagined an Ireland in which there would be Poles emigrating to work."
"The Protestant community is not what diversity is about in this society."
But critics of cuts to fee-paying schools say it could result in the "removal of schools of choice" for a minority Protestant population.
"I would say that the higher pupil teacher ratio for Protestant schools is a punishment for being different" says Christopher Woods.
"If we were the same as the other schools we wouldn't have this discriminatory treatment."
This is a claim minister for education Ruairi Quinn denies.
"There's no discrimination as far as I'm concerned, we have to balance our books over time, we're not doing that at the moment and we are literally looking at everything that we can, but it's done entirely on financial grounds."
"We cannot discriminate negatively or positively on grounds of religion, it's actually prohibited in the constitution."
Victoria White points to her father's book, Minority Report, "an anatomy of the Southern Irish Protestant.'
"My father believed that no minority in similar political situation to the Irish ascendancy as such had ever been as well treated as the Irish Protestant by the Irish Republic."
"There's been an attempt to constantly meet the needs of Protestants since the foundation of the Irish State and in my view, it has led to a lot of entrenched privilege."