To wed or to win?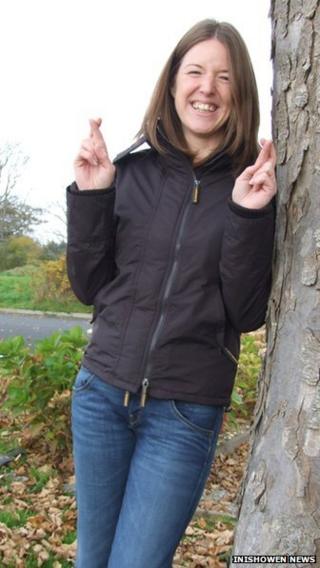 Dilemma: do I go on Irish national television with the chance of winning 500,000 euros along with some cars and holidays, or do I get married?
That was the question facing Donegal woman Mary O'Sullivan when her ticket was drawn last week to play on Ireland's National Lottery gameshow, Winning Streak.
Many people in Ireland have dreamed of their name being drawn from the spinning ticket box, of making the trip to RTE studios to participate and win thousands of euros. Many people have also dreamed of getting married.
What to do, what to do?
Thirty-four year old Mary has been going out with her partner Eoin Hamdam, 39, for over four years.
On Saturday evening she got a call from her brother asking her what her address was, and when she told him, he laughed. That confirmed it. It was she who had just been named on television to participate in next week's show.
"I said 'yeah right, you're not serious'. I just couldn't believe it," said Mary, a few days later and still in disbelief at the course of events.
Her mum often buys scratch cards for her and this card revealed the necessary three stars to enter to win a place on the programme.
As she went to post the lucky ticket, Mary thought about her upcoming wedding and the possibility that her ticket might be drawn and that the two might clash. "As if," she thought, and she proceeded to post it.
But now here she is with the two clashing and her dilemma is the talk of the Inishowen peninsula.
While she is a native of Inishowen, she lives in Blackrock in Dublin: no distance from where Winning Streak is aired. You could probably throw a stone that distance.
So could you get the nuptuals sorted, scoot over to the studio, win a few hundred thousand euros, and be back in time for the speeches?
Unfortunately not. The wedding is in Donegal, a three to four hour drive away, so that rules that out.
There is of course the option to postpone the wedding. Surely 500,000 euros would easily cover the cost of any disruption and the guests would probably understand. Surely the wedding could wait another few weeks?
"No chance," said Mary, "to be honest it never crossed my mind".
For her there was only one answer, to send someone in her place, but that was a dilemma of another kind.
"Who am I going to send? All my family and friends will be at the wedding, and I just thought, I can't ask someone to do that for me if I haven't invited them to the wedding," explained the bride-to-be.
In the end, however, the answer came quite easily: friends who were invited to the wedding had a perfectly suitable daughter who was not, but who was happy to take on the television challenge.
So on Saturday night, 21-year-old Ciara Ní Chleirigh will take to the stage in place of Mary, while in Donegal around 170 wedding guests will be glued to the big screen hoping she takes home the big bucks.
No pressure at all.
"She is just excited," said Mary. "She has watched the programme for years with her friends, all of them imagining what it would be like to have their ticket drawn."
For Mary, the outcome has in fact turned out to suit her perfectly: "Having someone to do it for you is great. I know in the weeks after the programme, if I had been on it I would have thought 'if I had only done this' or 'if I had ony done that', but now it is out of my hands and whatever happens is fine".
And one other thing. "There is no chance of him doing a runner now," she said.