John Dalli row: EU's Barroso denies ousting colleague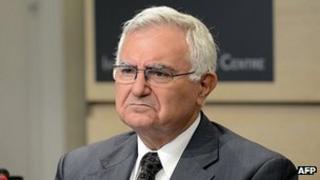 The head of the European Commission is embroiled in a public row with former EU Health Commissioner John Dalli, who left office last week.
Mr Dalli, from Malta, alleges that he was forced out by the Commission's President Jose Manuel Barroso and the EU's anti-fraud agency Olaf.
Mr Barroso denies that and says Mr Dalli resigned.
Olaf found fault with Mr Dalli over his links to a Maltese entrepreneur accused of trying to buy influence.
According to Olaf, the entrepreneur had sought a "considerable" payment from a Swedish producer of oral tobacco, called snus, after which Mr Dalli would lift an EU ban on the product. (Sweden has an exemption from the ban.)
Mr Dalli denied any knowledge of such an approach by the entrepreneur.
At a Brussels news conference on Wednesday evening Mr Dalli said "my intention is to challenge the decision of the president [Barroso], [and] to challenge the decisions of Olaf, and the way that Olaf has gone through the whole procedure".
He added: "This is a very serious decision that Mr Barroso took, very serious. It will damage my whole future, and it will damage the future of my family."
Earlier on Wednesday Mr Barroso had written to him, saying that "during our meeting on 16 October 2012 you have yourself unambiguously declared your immediate resignation, before the director general of the legal service and the head of my private office.
"Under the (EU) treaty, no written form is required for a declaration of resignation, and it is irrevocable."
He called Mr Dalli's "various complaints and accusations of illegal or incorrect conduct" by the commission and Olaf "incomprehensible".
Mr Barroso warned him to "behave with integrity". He said Mr Dalli must respect Article 245 of the EU Treaty, which rules that officials can be stripped of their pension or other benefits if they fail to act with integrity.
Tobacco review
The Olaf findings have now been passed on to Maltese police, who may take further action, the Times of Malta reports.
In a statement on 19 October Olaf said its investigation had "found no conclusive evidence of the direct participation of Commissioner Dalli in the operation for requesting money".
But it went on to say that "there are a number of unambiguous circumstantial pieces of evidence gathered in the course of the investigation, indicating that Commissioner Dalli was aware of the activities of the Maltese entrepreneur and of the fact that this person was using the commissioner's name and position to gain financial advantages".
"Olaf found that Commissioner Dalli had taken no action to prevent or dissociate himself from the facts or to report the circumstances," it said.
Mr Dalli insists that he was unaware of any such attempt by the Maltese entrepreneur to buy influence.
Mr Dalli has been preparing tough new EU legislation - a reform of the Tobacco Products Directive - to make smoking less attractive. It would also affect snus.
Tobacco producer Swedish Match said it had been asked to pay 60m euros (£49m; $79m), and in return the commissioner would water down the new legislation.
A statement from Swedish Match on 16 October said it had complained to the commission "about receiving a proposal to influence the outcome of the ongoing review" of the tobacco directive "in exchange for financial compensation".
Mr Dalli, 64, became the EU's commissioner for health and consumer policy in 2010.
His official biography shows that his career in Maltese politics stretches back more than a quarter of a century.
Commission Vice-President Maros Sefcovic has taken over Mr Dalli's duties on an interim basis until a new commissioner of Maltese nationality is appointed.
Maltese Foreign Minister Tonio Borg has been nominated for the post, Reuters news agency reports.