Sicily election deals Berlusconi new blow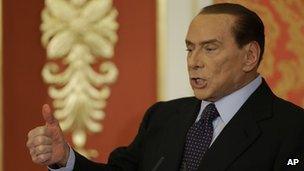 The party of former Italian PM Silvio Berlusconi has suffered a major blow, apparently losing a regional election in its former stronghold of Sicily.
With half of the votes counted, centre-left candidate Renato Crocetta was on course to become the next governor.
The result follows Mr Berlusconi's conviction last week for tax fraud, and his threat to withdraw support and topple PM Mario Monti's government.
The vote has been seen as a test ahead of a general election due next year.
Mr Berlusconi has ruled out leading his centre-right People of Freedom (PDL) party into that election, but says he will remain in politics.
He has touted PDL party secretary Angelino Alfano as his successor, but the result in Sicily - Mr Alfano's native region - may undermine those hopes.
Sicily has long been a bastion of support for Mr Berlusconi. In 2001 his party won all 61 seats there in the general election.
With more than half of the votes counted after Sunday's Sicilian poll, the PDL's candidate Nello Musumeci, with 25%, trailed Mr Crocetta who was on 30%.
"It's the first time that a candidate for the left is elected as regional governor, it's the first time that an anti-mafia candidate wins," declared Mr Crocetta, who has campaigned against organised crime and lives under police protection after threats to his life.
"Today is more than an election result, it is a date with history."
Giancarlo Cancelleri, the candidate of the 5-Star protest movement, which campaigns against the government's austerity programme, put in a strong showing with 19%.
The election was held early after the previous governor, Raffaele Lombardo, was forced to resign after allegations of mafia collaboration and a financial crisis which left the island close to bankruptcy.