Russia Caucasus: Imam shot dead in Derbent, Dagestan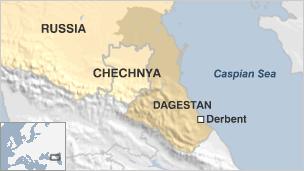 Attackers have shot dead an imam and two of his male relations, as they drove to a mosque in the Russian North Caucasus region of Dagestan.
They were shot on their way to morning prayers, close to the imam's home in the Caspian Sea town of Derbent, law enforcement sources told reporters.
The cleric was named as Kalimulla Ibragimov, 49, who is said to have delivered sermons calling for peace.
Islamists have been blamed for attacks on moderate Muslims in the region.
Dagestan, a mainly Muslim region, has been gripped by an Islamist insurgency since 1999, when militants backed by fighters from neighbouring Chechnya launched an offensive against Russian control.
Three imams have been shot dead in the region since March, the Russian news website utro.ru reports.
Mr Ibragimov is said by Russian media to have been a "Salafist", a term used for Islamic radicals. Nonetheless, according to utro.ru, he "often gave sermons and made appeals for peace and Muslim unity".
The two other victims of the shooting, which occurred at around 06:30 (02:30 GMT), have been identified variously as Mr Ibragimov's sons, or one of his sons and his father. The killers escaped.
Related Internet Links
The BBC is not responsible for the content of external sites.