Perisic appeals against war crimes verdict at The Hague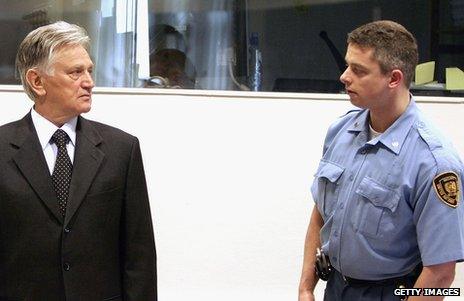 The Hague tribunal is hearing an appeal by Momcilo Perisic, the most senior officer of the former Yugoslav Army to be convicted of war crimes.
Perisic, who commanded the Yugoslav Army during the wars in Bosnia and Croatia, was jailed for 27 years by the UN war crimes tribunal last year.
He was convicted of aiding and abetting crimes but acquitted of a direct role in the Srebrenica massacre.
Perisic insists he was not aware of or responsible for atrocities.
The tribunal convicted him of aiding and abetting murders, inhumane acts, persecutions on political, racial or religious grounds, and attacks on civilians in Sarajevo and Srebrenica.
He was also found guilty of failing to punish his subordinates for their crimes of murder, attacks on civilians and injuring and wounding civilians during rocket attacks on Zagreb in Croatia.
Related Internet Links
The BBC is not responsible for the content of external sites.