Kurds clash with Turkish police over hunger strikers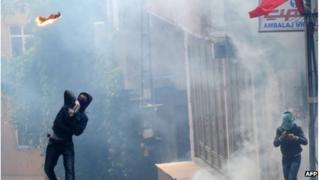 Thousands of Kurdish protesters have clashed with police in Turkey on what they called a day of resistance in towns and cities across the country.
The protesters aimed to draw attention to more than 650 Kurdish prisoners who have been on a six-week hunger strike.
The worst clashes were at Diyarbakir prison, in south-eastern Turkey, but they also took place in Istanbul.
Tensions between the Kurds and the Turkish majority are higher now than for more than a decade, analysts say.
The hunger strikers are demanding:
The right to use the Kurdish language in Turkey's education and legal systems
An end to the solitary confinement of Abdullah Ocalan, the imprisoned leader of the Kurdish armed movement, the PKK
Mr Ocalan was sentenced to death in 1999, though that was later commuted to life imprisonment following the abolition of the death penalty in Turkey in 2002.
The hunger strikers are refusing solid food, but allow themselves to drink water mixed with small amounts of sugar and salt.
The Turkish Prime Minister, Recep Tayyip Erdogan, has blamed the PKK's leaders for the hunger strike.
"As they eat lamb kebabs, they order prisoners to die," Mr Erdogan told a meeting of his ruling AK Party. "You cannot blackmail the state by dying," he declared.
The Kurdish minority are thought to make up more than 20% of the population of Turkey.
The PKK has waged a guerrilla campaign in south-east Turkey for more than 25 years, attempting to establish an ethnic homeland for the Kurdish people.
It has attacked military checkpoints and convoys, and carried out bombings in cities. Some 40,000 people, including civilians, have died in the conflict.