Hungary may offer rich foreigners home with bond scheme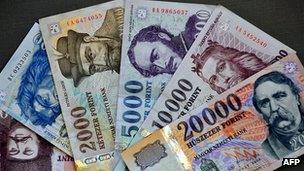 Hungary plans to offer non-EU nationals permanent residence if they buy at least 250,000 euros' worth (£201,000; $323,000) of special government bonds.
The draft legislation was submitted by three MPs in the ruling Fidesz party.
Presenting the bill, Fidesz MP Antal Rogan said some Chinese nationals had complained that it was hard to get visas to enter Hungary, an EU member.
Hungary is having difficult talks with the International Monetary Fund (IMF) on a proposed new 15bn-euro loan.
Last month the centre-right Hungarian Prime Minister, Viktor Orban, rejected as unacceptable the conditions attached by the IMF, including pension cuts and the withdrawal of a tax on banks.
Hungary's economy is now in recession, although Budapest has been able to keep financing itself through bond sales.
As EU citizens, Hungarian passport holders can move freely to other EU countries and find work there.
Correspondents say the new incentive for non-EU citizens to settle in Hungary could enable them to get Hungarian passports.
The special bonds outlined in the bill would carry a five-year maturity.
Related Internet Links
The BBC is not responsible for the content of external sites.