Anti-austerity backlash hits Portugal in euro crisis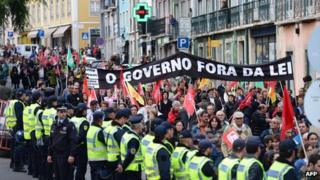 In crisis-hit Portugal mass protests have already forced one government retreat - on plans to increase social security contributions.
There is no sign of a let-up in the groundswell against the austerity imposed under the country's 78bn-euro (£63bn; $101bn) international bailout.
The more radical of Portugal's two main trades union groups, the CGTP, has called a general strike for 14 November.
This week, several unions affiliated to a rival federation broke ranks with its leadership, announcing they would join the stoppage.
Even among those Portuguese who have not been taking part in protests, the feeling is that things are getting worse - in a week when parliament debated unprecedented tax increases for next year.
"People are cutting back," said Lina Santos, who runs a newspaper kiosk at one of Lisbon's main rail stations.
"They look at the covers of the magazines and would like to buy them, but with even the cheaper ones costing the same as half a dozen bread rolls..."
Above all, there is a feeling of uncertainty - except that people know things will not get better.
"What's coming will be much worse than this year," said Lina. "At the moment things are a bit shaky, but next year we're really going down."
Her 30-year-old son is qualified to drive coaches but has no steady job, and with the tourism business weakening as Spain's economy takes a dive, too, things are increasingly difficult.
"This week he sent out 140 job applications and... nothing," she said. "He's just spent a month driving one of those shuttle buses taking people to out-of-town superstores, but the boss didn't pay - the company has been wound up."
Spending dries up
At a nearby market, Judite Santos Lima ran her eye over a fishmonger's wares.
"I have to see the prices first at all the stalls," she said. "At the moment we really have to look for the cheapest to get by."
She works "a few hours" a week cleaning people's houses, but never enough.
"I've had more in the past," she said. "It's because of this crisis - people are scrimping. Everyone's feeling it, in prices and taxes."
Her daughter is halfway through a journalism degree and, while earning cash from odd jobs, is worried she might not find employment at the end of it.
Judite professes not to understand politics, but wonders what more austerity can bring. "They're always cutting everything," she said. "Where will it end?"
The government is making more spending cuts but above all raising taxes, shocking even coalition deputies with its 2013 budget.
In particular, changes to income tax rates and brackets - plus a special "solidarity" levy - will see many people losing the equivalent of a month's salary.
Not only the opposition but also economists warn of a recessionary spiral, with austerity sapping economic growth, leading to more job losses and lower tax receipts, so making it even harder to narrow the budget deficit.
'Sandwich families' hit
A recent study on economic inequality in Portugal, for the independent Francisco Manuel dos Santos Foundation, provides clues as to why consumers have been pulling in their horns more than international officials and even the government were expecting.
Even before austerity set in, official figures show, not only could 91% of households not afford a one-week annual holiday, but more than half lacked the cash to fund even an emergency expenditure equivalent to the monthly poverty-line income - around 430 euros.
"They don't have enough resources to resist a drastic change of their conditions," the study's coordinator, Carlos Rodrigues of Lisbon's Universidade Tecnica, told the BBC.
"That means that a major change in terms of the environment can start reversing the effects of all the anti-poverty policies of recent years."
It is not just the poor who are teetering on the edge, according to Mr Rodrigues. Much of Portugal's middle class is made up of what he calls "sandwich families" - a phrase that recalls the "squeezed middle" of the UK.
"A significant proportion of these households are above the poverty line, but have levels of indebtedness that make their situation also very fragile," he said. "At the same time, because they are above the poverty line, they have no access to welfare benefits."
Across town, Carlos Farinha of the Bank of Portugal is running an open day to promote financial literacy.
"People's first reaction might be: how can we be talking about saving in the middle of a crisis?" he admitted. "They might see that negatively.
"But if they reflect just a bit, they'll see financial education gives them the tools to cope with the crisis - or prepare for a better future."
At a time when many Portuguese are suffering the effects of past mistakes, he does see signs of a growing awareness of the need to compare financial products.
"The fact that there's been no financial education in schools in Portugal for years now has meant that people were too easily induced into taking out loans," he said.
"Fifteen years ago the incentive to consume was constant - it was accepted and desirable - and now that's changing."
Not only Portugal's increasingly vocal anti-austerity protesters but pretty much everyone in the country is only too well aware that times have changed.