Kurdish car bomb killed child in Semdinli, says PM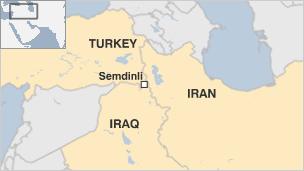 Kurdish rebels set off a car bomb in south-eastern Turkey, killing an 11-year-old child, Turkish Prime Minister Recep Tayyip Erdogan has said.
The bomb, which went off near a wedding celebration in the town of Semdinli, targeted an armoured police vehicle, the prime minister said.
Eighteen people were also injured.
Semdinli lies near Turkey's border with Iran and Iraq, in an area where Kurdish separatist militants have regularly clashed with Turkish security forces.
No group has said it carried out the attack, but Mr Erdogan blamed the Kurdish militant movement, the PKK.
The PKK has waged a guerrilla campaign in south-east Turkey for more than 25 years, attempting to establish an ethnic homeland for the Kurdish people.
It has attacked military checkpoints and convoys, and carried out bombings in cities. Some 40,000 people, including civilians, have died in the conflict.
More than 650 Kurdish prisoners in Turkey are currently on hunger strike. Tensions between the Kurds and the Turkish majority are higher now than for more than a decade, analysts say.