North Ossetia profile - Leaders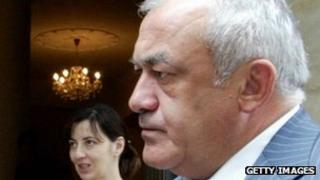 President: Taymuraz Mamsurov
Taymuraz Mamsurov was put forward for the leadership by Russian President Vladimir Putin and approved by the republic's parliament after the resignation of Aleksandr Dzasokhov in June 2005.
He is a leading member of the North Ossetian branch of United Russia and is regarded as a staunch Kremlin loyalist. He had been chairman of the republic's parliament since 2000 and was chairman of its government for two years before that.
Mr Dzasokhov, president since 1998, was heavily criticised in the republic over the North Ossetian authorities' failure to prevent bloodshed in the September 2004 Beslan school siege.
As a senior official at the time of the siege, in which his son and daughter were amongst the hostages, Mr Mamsurov has also faced criticism in its aftermath.
He has spoken of the people of North and South Ossetia as an "integral whole" and issued a joint statement with his South Ossetian counterpart on boosting links.
Mr Mamsurov was born in Beslan and was 50 when he became leader. He trained as a civil engineer.