Russian Defence Minister Anatoly Serdyukov fired by Putin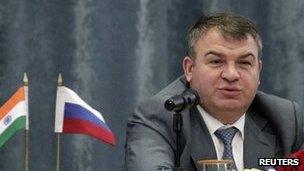 Russian President Vladimir Putin has dismissed the defence minister after his ministry was caught up in a corruption scandal.
Anatoly Serdyukov has been replaced with a former emergencies minister and loyal ally of Mr Putin, Sergei Shoigu.
Russia's top investigative agency is investigating the sale of ministry assets at prices below market value.
Mr Putin said he had removed Mr Serdyukov to create "conditions for an objective investigation".
Last month, Russian investigators raided the offices of a state-controlled military contractor and began investigating the company amid claims that it had sold assets to commercial firms at a loss of nearly 3bn roubles ($100m; £62.5m).
Oboronservice's activities include servicing military aircraft and arms and constructing military facilities.
Investigative Committee spokesman Vladimir Markin said Mr Serdyukov would be questioned in the probe "if there is a reason" for doing so.
Mr Serdyukov was a furniture store executive and head of the Russian tax service before being appointed defence minister in 2007.
The BBC's Steve Rosenberg, in Moscow, says that in the six years that Mr Serdyukov was defence minister, he tried to reform Russia's outdated armed forces by cutting costs and personnel and by boosting efficiency.
Under his reforms, there were big cuts in army personnel, and military assets were put in civilian hands. He also forced defence manufacturers to accept lower prices.
On the way, our correspondent adds, he made enemies in the armed services.
He also reportedly angered his own father-in-law Viktor Zubkov, who is a former deputy prime minister and currently chairman of the state-owned gas giant Gazprom.
One website with close links to Russia's intelligence services claimed two weeks ago that when police conducted a dawn raid on a key suspect in the fraud case, Yevgeniya Vasilieva, they found Mr Serdyukov in her flat; that has led to speculation he was in an extra-marital relationship.