Austria billionaire Stronach party allowed in parliament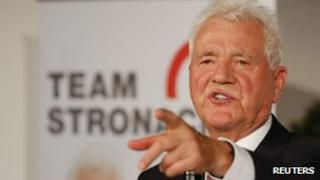 A party set up by an Austro-Canadian billionaire six weeks ago is being allowed into parliament in Vienna without contesting an election.
Frank Stronach, 80, launched his party at the end of September.
Speaker Barbara Prammer awarded parliamentary status to Team Stronach, after it persuaded five MPs to defect from a small right-wing alliance.
Born in Austria, the car parts magnate spent almost sixty years in Canada, where he built his fortune.
According to opinion polls, his new party has attracted the support of an estimated 10% of the electorate, even though it is yet to define its policies clearly.
Mr Stronach has vowed to shake up the eurozone, but has said a full party programme will not be decided until April.
Autumn election
He has said that a country stands and falls by its own currency and believes the euro has made Europe uncompetitive.
Austria holds general elections next autumn and the decision to allow a new party into parliament in the form of the five defected MPs was not without controversy.
Frank Stronach was born into a working class family in southern Austria during the Great Depression.
After the Second World War he emigrated to Canada where he established a small manufacturing company in Toronto.
That enterprise grew over the years into Magna International, North America's largest automobile parts manufacturer.
Mr Stronach unsuccessfully stood as a candidate for the Canadian parliament in 1988.
His daughter, Belinda, was an MP in Ottawa for four years. She was elected as a Conservative, but defected to the Liberal Party and became Minister of Human Resources in the government of Paul Martin.