Profile: Russia's new military chief Valery Gerasimov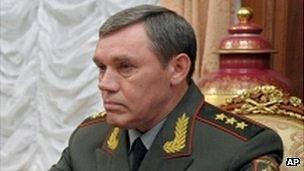 Russian President Vladimir Putin has appointed a veteran commander from the second Chechen war, Gen Valery Gerasimov, as the new armed forces chief of staff.
Gen Gerasimov was previously deputy to the man he replaces, Nikolai Makarov. His is the highest ranking appointment since Sergei Shoigu became Russia's new defence minister earlier this week. Mr Shoigu described him as "a military man to the roots of his hair".
Gen Gerasimov will also serve as first deputy defence minister.
Gen Gerasimov, 57, was born in the city of Kazan, on the Volga River and capital of the ethnic Tatars.
He began his military career in 1977 with the Northern Group of Forces. After serving in the Far Eastern and Baltic Military Districts, he became chief of staff of the 58th Army in the North Caucasus Military District in 1999, shortly before the second Chechen war erupted.
During his time in Chechnya, he was personally involved in the arrest of Yury Budanov, an army colonel later convicted for the murder of a Chechen girl. That led journalist Anna Politkovskaya, a vocal critic of the Chechen conflict who was murdered in 2006, to describe him as "a man who was able to preserve an officer's honour" during the war.
In 2001, at the height of the Chechen conflict, Gen Gerasimov was appointed commander of the 58th Army.
In 2003-2005 Gen Gerasimov was chief of staff of the Far Eastern Military District. During his time there, he was reprimanded for mass outbreaks of illness among conscripts - seemingly the only black mark on his career record.
He went on to serve as commander of the military districts covering St Petersburg and Moscow, before becoming deputy chief of general staff. He was relieved of his duties in April this year, becoming commander of the Central Military District. There was speculation that a strained relationship with Gen Makarov was one of the reasons for the move.
Gen Gerasimov has been in charge of the traditional Victory Day military parades in Moscow since 2009.
His appointment has been welcomed by Russian commentators.
The former head of the Russian Space Defence Troops, Gen Viktor Yesin, said he "is an accomplished general... who has demonstrated that he is a thoughtful leader and a good organiser".
And the editor of the National Defence magazine, Igor Korotchenko, described Gen Gerasimov as "a very competent person, a true patriot".
BBC Monitoring reports and analyses news from TV, radio, web and print media around the world. For more reports from BBC Monitoring, click here