Angela Merkel praises Portugal's resolve on debt crisis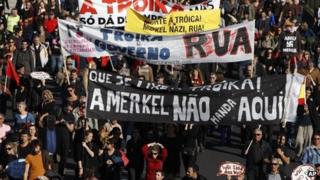 German Chancellor Angela Merkel has praised Portugal's resolve in tackling a debt crisis that required a 78bn-euro ($101bn) bailout.
Speaking as she met Portugal's prime minister in Lisbon, Mrs Merkel pledged German solidarity for the Portuguese during "very hard" times.
PM Pedro Passos Coelho said the bailout had been the "only way forward".
But Mrs Merkel was met by protesters with banners reading "Merkel assassin" and "Portugal is not Merkel's country".
Large numbers of police were deployed to block off streets as Mrs Merkel travelled to meet President Anibal Cavaco Silva and then to talks with Mr Passos Coelho.
Some demonstrators booed Mrs Merkel, blaming her as the architect of austerity measures that are increasingly unpopular.
Portugal predicts a third straight year of recession next year - its budget for 2013 will include massive tax rises and huge public spending cuts.
The unemployment rate is almost 16%.
Black balloons
Mrs Merkel expressed sympathy for the jobless.
"I know that it's very hard for some people - unemployment is high, especially among young people, so Germany wants to support Portugal, in particular with professional training. I sense a great sense of determination here in Portugal to overcome this difficult phase."
She added: "I think Portugal's conditions for growth have improved greatly recently because of this adjustment programme and the courageous action of the government."
Mr Passos Coelho said there was no option but to follow the policies his government had put in place.
"We know that the social situation is difficult and that it is easier to talk about reform than carry it out," he said.
"We are aware of the difficulties but we think this is the only way forward."
Some demonstrators earlier released black balloons "in mourning" at Mrs Merkel's visit, and several more protests were planned during her six-hour stay.
The European Commission, European Central Bank and International Monetary Fund - the so-called "troika" - have just started a quarterly review of Portugal's adherence to its bailout terms.
The report will determine whether Portugal gets its next tranche of 2.5bn euros of bailout funds.
Mrs Merkel said she expected a positive report.