French press praises Hollande's gravitas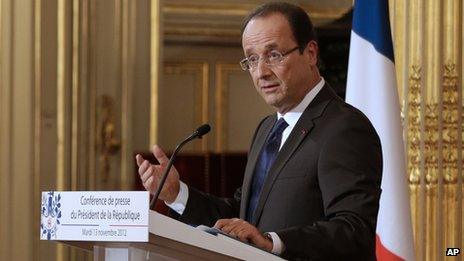 There has been a broadly positive reaction in the French media to President Francois Hollande's first major news conference since coming to power.
But there are also warnings that he will now have to deliver if he is to reverse the sharp fall in his opinion poll ratings, six months into his presidency.
Front-page headlines said "Hollande passes test with distinction" (regional daily Le Republicain Lorrain) and "Realist" (regional daily La Montagne). Others said he was "steadfast" and "stands by his choices".
The left-leaning Liberation says Mr Hollande is "at home in his role, with a kind of ease, authority and solemnity which did not jar with the spirit of the Fifth Republic". An editorial by Vincent Giret praises him for being clear about "the gravity of the situation in which the country finds itself" but regrets that, on the issue of Europe, "he failed to set out his vision for the future".
Michel Urvoy in the best-selling regional daily Ouest France says the president "made a success" of the press conference but warns that this is "not enough to reverse the fall in confidence". Mr Hollande "made himself presidential" and "managed to give coherence to a more or less disorderly sum of promises and decisions", Urvoy adds. Overall, he "passed the test with a kind of serenity which contrasts remarkably with his ratings in the polls".
The fact that Mr Hollande has defined growth and jobs as his objectives prompts Le Monde's commentator Francoise Fressoz to ask in her blog: "Why did he not tell us that before, as soon as he took office, with the same gravity?" She adds, however, that it is far from certain whether bosses and employees are capable of reaching the "historic compromise" called for by Mr Hollande, which aims to balance "greater flexibility for companies" with "greater protection for employees".
Leading the camp of the critics, the centre-right Le Figaro detects a flaw in Mr Hollande's assertion that he is sticking to his election promises: "If the president is faithful to the candidate, why has his opinion poll rating dropped by 20 per cent in less than 200 days?" The answer given by commentator Paul-Henri du Limbert is that voters have noticed that Mr Hollande's manifesto was "unworkable". "It is necessary to talk about austerity, efforts, sacrifices and reforms, and obviously to implement policies that go with that, which have nothing to do with those he advocated in May," he says.
On the left, L'Humanite laments that, while the section headings of Mr Hollande's manifesto remain on the table, they turned out to be "empty" in his press conference. "This defence of his own cause may well not reassure left-wing voters... that their voice will be heard," commentator Patrick Apel-Muller says. According to him, the president "preferred credibility with regard to financial markets" over jobs and growth.
Several papers emphasise that the real test for Mr Hollande is not whether he keeps his policy pledges but whether those policies will have the desired results.
Francois Ernenwein in La Croix says "fulfilling past commitments will count for much less than the results achieved in the field of growth and the fight for jobs". Jean-Michel Bretonnier in La Voix du Nord is cautious, saying: "Yesterday Francois Hollande seemed to measure up well to his office. We are waiting to see whether he will measure up well to the issues."
BBC Monitoring reports and analyses news from TV, radio, web and print media around the world. For more reports from BBC Monitoring, click here
Related Internet Links
The BBC is not responsible for the content of external sites.