Nun in Sligo court trial denies 63 sex assault claims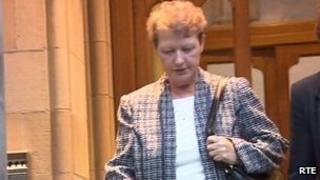 A trial at a court in Sligo has heard evidence from one of the alleged victims of a nun accused of indecently assaulting pupils in a midlands national school in the 1970s.
She said Sister Mary Theresa Grogan would tell the other children to go to sleep when she called her up to her desk to correct her homework and indecently assaulted her.
The nun, 62, who was formerly known as Sr Peter denies 63 allegations of indecently assaulting seven young girls, mostly in a classroom.
The woman said the nun had been her favourite teacher.
She told the court that Sr Peter never slapped the pupils and gave her a lot of attention and made her feel she was special.
The witness cried as she described to the court how Sr Peter assaulted her twice a week.
She claimed the abuse started about a month into the school year and would happen as she stood beside the nun at her desk.
She said the nun would whisper into her ear how good she was and that she was her pet.
The alleged victim said she did not think what had happened to her was wrong until she had her own children.
She said she wanted to prevent the nun going into the school and being among children.