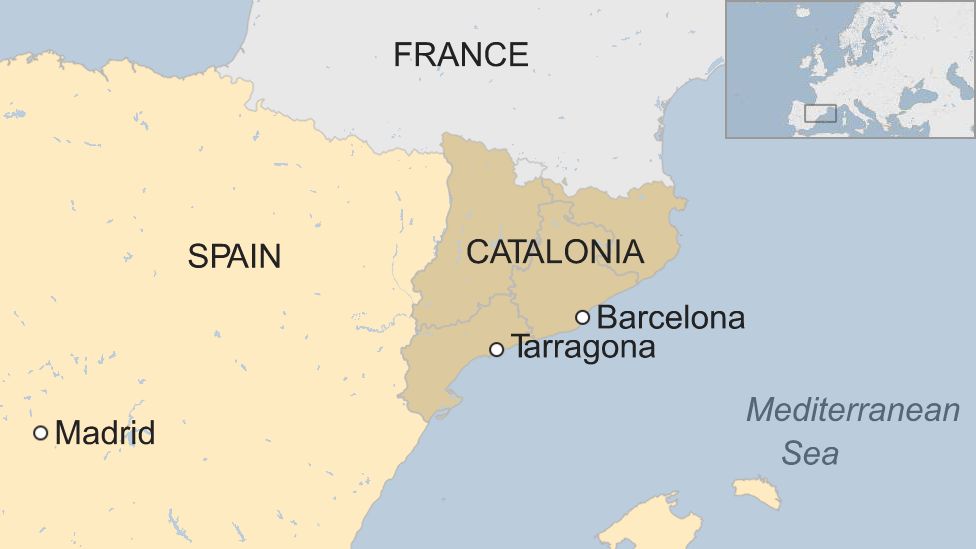 Proud of its own identity and language, Catalonia is one of Spain's richest and most highly industrialised regions, and also one of the most independent-minded.
Tourism is an important part of Catalonia's economy, but it is manufacturing that makes the region Spain's economic powerhouse, along with a growing service sector.
Many Catalans believe their affluent region pays more to Madrid than it gets back. A 2017 breakaway referendum prompted Spain's deepest political crisis for decades, with the Catalan regional parliament declaring independence and Madrid temporarily imposing direct. rule.
The use of Catalan - a language as close to regional languages of southern France like Occitan as it is to Castilian Spanish - has equal status with Castilian.
Capital: Barcelona
Area: 32,113 sq km
Population: 7.7 million
Languages: Catalan, Spanish, Occitan (Aranese)
Life expectancy: 79 years (men) 85 years (women)
Catalan-language, locally-based media draw large audiences. TV3, operated by public Televisio de Catalunya, is the leading television station. Public Catalunya Radio tops the radio ratings.
Some key dates in Catalonia's history:
11th Century - Region first emerges as a distinct entity with the rise of the County of Barcelona to pre-eminence.
12th Century - The county is brought under the same royal rule as the neighbouring kingdom of Aragon, going on to become a major medieval sea power.
15th Century - King Ferdinand of Aragon and Queen Isabella of Castile marry and unite their realms, creating a united Spanish state, including Catalonia.
Initially retaining its own institutions, the Catalonia is ever more tightly integrated into the Spanish state.
19th Century - Emergence of a renewed sense of Catalan identity.
1931 - When Spain becomes a republic, Catalonia is given broad autonomy.
1936-39 - Spanish Civil War: Catalonia is a key Republican stronghold, and the fall of Barcelona to Gen Francisco Franco's right-wing forces in 1939 marks the beginning of the end of republican resistance.
Under Franco's ultra-conservative rule, autonomy is revoked, Catalan nationalism repressed, and use of the Catalan language restricted.
1975 onwards - The pendulum swings back with the emergence of a democratic Spain after Franco's death.
Catalonia now has its own parliament and executive - together known as the "Generalitat" in Catalan - with extensive autonomy.
2010 - Separatist fervour soars after a ruling by Spain's constitutional court set limits on Catalan claims to nationhood. The region's then president Jose Montilla says the ruling "attacked the dignity of Catalans".
2008 - Spain's painful economic crunch also fuels enthusiasm for sovereignty. Many Catalans blame the central government fo rthe country's debt crisis.
2014 - A regional government backed by the two main separatist parties holds a non-binding independence referendum, with 80% of those taking part voting "yes".
2015 - The regional government calls another set of elections to reinforce its mandate
2017 - A further referendum that again backs independence by a large margin - prompts a deep political crisis in Spain. Madrid temporarily imposes direct rule over the region.
After Catalan leader Carles Puigdemont and two ministerial colleagues flee, Spain jails nine other Catalan leaders for sedition.
2018 onwards - Socialist Prime Minister Pedro Sánchez declares improving the febrile atmosphere in Catalonia a priority.
2021 - Jailed Catalan leaders are pardoned.
Related Internet Links
The BBC is not responsible for the content of external sites.