Georgia: Fresh wave of arrests of former officials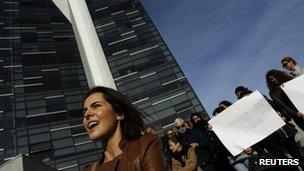 Georgian authorities have arrested a further nine former government officials, accusing them of abusing their power while in office.
All the officials worked at the interior ministry under President Mikheil Saakashvili, whose party was ousted from power last month.
Mr Saakashvili says politicians from his administration are now being persecuted by the new authorities.
The ex-defence minister has been charged with torturing army personnel.
The charges relate to an incident in February 2010, when Bacho Akhalaia allegedly ordered 17 servicemen to be locked up and abused.
Mr Akhalaia left his post in September, ahead of the polls, amid a prisoner abuse scandal.
Currently being held in pre-trial detention, he says the charges against him are politically motivated.
"Former senior officials from the interior ministry are suspected of illegally obtaining personal information, including financial and commercial, with computers," Justice Minister Tea Tsulukiani told reporters, Reuters reports.
Lawyers for the nine detainees said they had been charged with abuse of power and illegal confinement.
The BBC's Damien McGuinness, in Tbilisi, says that Georgia was widely praised after October's elections for ensuring the first peaceful transition of power in the country's post-Soviet history. Mr Saakashvili is expected to step down in October 2013.
But tensions between the ousted government and the country's new leadership have been mounting over the past week.
After a dirty election campaign, our correspondent adds, Mr Saakashvili's party is accused of all kinds of abuses while in power: ranging from allegedly imprisoning critics unfairly to confiscating funds from the businesses of political opponents.
The mayor of Tbilisi, whose deputy was arrested, has condemned the move as political persecution, accusing the new government of becoming a "dictatorship".
But Georgia's new Prime Minister Bidzina Ivanishvili, whose six-party coalition unexpectedly swept to power in October's elections, says it is about restoring justice, after years of authoritarian behaviour by the former authorities.