Savita Halappanavar: Rallies held in Dublin and Galway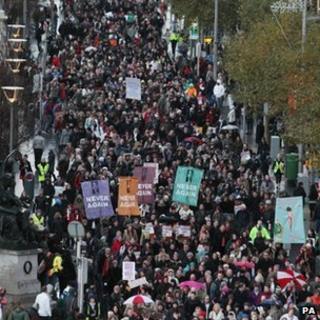 Thousands of people have attended rallies in the Republic of Ireland in memory of Savita Halappanavar, calling for changes to Irish abortion law.
The 31-year-old died at a Galway hospital last month. Her family claimed she was repeatedly refused a termination during a miscarriage.
The largest demonstrations took place in Dublin and Galway on Saturday.
Meanwhile, Irish police have confirmed they are assisting the coroner in relation to Mrs Halappanavar's death.
Candle-lit vigil
A police spokesperson said this was "standard procedure in the case of a sudden death".
The Indian national, who was 17 weeks pregnant with her first child, died at University Hospital, Galway on 28 October.
Gardai estimate 12,000 people marched from Dublin's Garden of Remembrance to the Irish parliament on Saturday, where a candle-lit vigil and one minute silence was held.
In Galway, up to 1,000 people took part in a vigil in Eyre Square in the centre of the city while separately, about 60 members of the Indian community gathered outside the hospital and held two minutes of silent prayer.
Smaller demonstrations were also held Ennis, Clonakility, Kilkenny, Sligo, Limerick, Carlow and Letterkenny.
The cause of Mrs Halappanavar's death was septicaemia, according to an autopsy carried out two days after her death.
She had been admitted to the hospital with severe back pain and was later told she was having a miscarriage.
'Catholic country'
Her widower, Praveen Halappanavar, said his wife had accepted she was losing her baby and made several requests for a medical termination.
However, he claimed that doctors refused her plea because there was a foetal heartbeat.
Mr Halappanavar said hospital staff told them Ireland was "a Catholic country".
The hospital authorities have said the facts of the case have yet to be established.
They are co-operating with two investigations into her death - an internal investigation and an inquiry carried out by the Irish Health Service Executive (HSE).
The terms of reference of the HSE inquiry are expected to be made public in the coming days.
In recent days, demonstrations over the case been held in Dublin, Cork, Belfast, Londonderry and the Irish embassies in Delhi and London.