Tottenham fans injured in clashes in Rome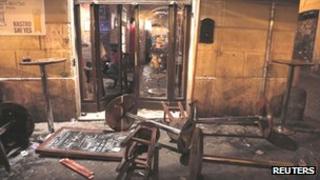 A Tottenham Hotspur supporter has been seriously injured and several hurt in a clash with rival fans in Rome.
The violence flared ahead of a Europa League match in the city, in which Spurs drew 0-0 with Lazio.
The fan was stabbed at the Drunken Ship bar in the Campo de' Fiori district and is understood to have suffered a serious injury to an artery.
The bar's owner said about 40 men wearing helmets and with faces covered had attacked the English supporters.
The Italian newspaper Corriere Della Sera said at least seven Spurs fans, aged between 20 and 60, had been injured and taken to three hospitals. Rome police said five were British, one was from California and one from Bangladesh.
La Repubblica reported "urban warfare" had broken out at the bar, with up to 100 "Ultras" attacking Spurs fans.
It said the attackers, initially thought to be Lazio fans, were armed with knives, baseball bats, and knuckle dusters.
'Everything was destroyed'
The BBC's Rome correspondent Alan Johnston said later that police had identified at least one fan of Lazio's rivals Roma among those involved in the attack.
Lazio chairman Claudio Lotito said on Thursday: "Lazio fans have nothing to do with what happened last night" and he added that there would be "surprises about the real culprits".
Tottenham MP David Lammy tweeted: "Every time EPL (English Premier League) clubs in Rome there's a stabbing, every time promises are made to crackdown on thugs but nothing ever changes. Thoughts go out to Spurs fans that were attacked in Rome last night."
The owner of the bar, Mario Manzi, told the BBC: "At 1am there were around 30 English fans here, plus some American students, and some Italians.
"At some point, from around the corner, some 40 guys, all wearing helmets, faces covered with scarves, came here, destroyed that window, and came in.
"The English people hid behind here, and everything was destroyed. There were rocks, iron bars, everything."
He said: "The English fans were very calm, they weren't even drunk, then these men with heads covered came barging in throwing cobblestones. They had clubs and metal rods. It lasted about 20 minutes."
Rome police said the most seriously injured man was a 25-year-old who was being treated at San Camillo Hospital.
A spokesman said: "A group of about 40 or 50 people in motorcycle helmets or with their faces covered were armed and attacked the group of English football fans drinking in Campo de' Fiori square."
Witness Giuseppe Tamborra said: "I saw four people lying on the ground, one with his forehead cut open, probably with a stool taken from the bar. The Italians were very organised, with helmets, bats, even balaclavas. There were less people in the English group, the others were in a big group."
Spurs manager Andre Villas-Boas said the fans had the club's support.
"It is an extremely difficult moment for them. We have to be aware there is a police investigation and I'm not in control of all facts," he said.
"But there is massive disappointment and the fear they've gone through is hard. As a club, we will try to help them overcome this."
A spokesman for the Foreign and Commonwealth Office said it was investigating and would provide consular assistance.
He said: "We have been in contact with one British national and have been updated by hospitals on the conditions of all the others, some of whom have already been released."
Thursday night's result means Tottenham are still seeking qualification to the knockout stages of the Europa League. They are now second in their group with seven points, two behind Lazio.