Spain regions: Uncharted waters for Catalonia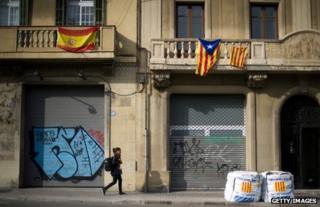 While Catalonia's regional elections have been focused largely on the question of independence from Spain, a future political roadmap is far from clear.
Economics lie at the heart of the debate and also form some people's fears about how things might progress, following Sunday's election.
If you had asked someone in Spain, several weeks ago, whether Catalonia might become a new independent state, they might have smiled, or even laughed.
Now it is plausible and possible.
However even if pro-independence Catalan nationalist parties win a majority of the seats in the regional parliament, there are a string of unknowns and important questions over how the political process might progress.
Independence spur
These elections were called early by Catalonia's current president, Artur Mas, who leads the centre-right Catalan nationalist party Convergencia.
Buoyed by a record turnout of at least one million people at a pro-independence demonstration on Catalonia's national day on 11 September, Mr Mas changed his party's official position on independence: the people should decide.
That said, a referendum would not be legal, under Spain's current constitution.
So instead, Mr Mas might decide to hold a "public consultation" on the question of independence, providing he and other nationalist parties win, between them, a majority of the vote, and can agree on how to work together.
"A referendum is legally binding," explains Dr Miguel Medina, an adviser to the Catalan parliament.
"It is clear, concise and not subject to interpretation. The answer to the question has to be 'yes' or 'no'.
"A public consultation is a survey or a poll. The questions can be as wide and as flexible as the government wants."
Crucially, he explains, the result is "not legally binding".
Cava scare
The Spanish government, run by the centre-right Popular Party (PP), is vehemently opposed to the idea of a referendum.
And so a change in the Spanish constitution, to make a referendum possible, seems highly unlikely, given that the PP's majority of MPs in the Spanish parliament could block such a move.
Dr Miguel Medina argues that, if that happens, the Catalan government "might go for a unilateral declaration on independence".
The implications of that are completely unknown but there will be consequences, good or bad, for the struggling economies of Spain and Catalonia.
Despite the recession, Catalonia generates nearly one fifth of Spain's total GDP.
However the region's largest trading partner is, unsurprisingly, the rest of Spain.
It is true that there is scaremongering about the possible economic implications of Catalonia going it alone.
One Spanish newspaper this week ran a story about a possible boycott, in the rest of Spain, of Cava, Catalonia's popular sparkling wine. Pre-Christmas sales of fizzy wines made in other parts of the country are up this year, claimed El Mundo newspaper.
Many businesses, including popular brands of Cava we contacted for interviews on the subject of independence, did not want to talk. Understandably, they fear alienating customers or clients by commenting on such a sensitive and controversial subject.
However some companies express uncertainties about the future, given the current economic climate.
Passing the buck
Javier Cottet, the director-general of Cottet, a chain of opticians with 50 shops in Spain, 12 of which are outside of Catalonia, says he really does not know if independence would be good or bad for business, but he does have "serious doubts".
"For our hearts it's something very nice," says Mr Cottet. "Perhaps it will be good, perhaps it will be something that will be very dangerous?"
The mantra of pro-independence Catalan nationalist politicians is that their region gets a raw deal from Madrid.
The regional government argues that their funding crisis has been caused by the fact that the taxes collected by the Spanish in Catalonia greatly exceed the money Madrid sends back to fund the region's schools and hospitals.
The plight of a small pharmacy in the Barcelona neighbourhood of Gracia highlights the impact of the financial, and now political, battle between the central government in Madrid and the regional government in the Catalan capital.
The owner, Monica Morillas, is owed three months of payments from the regional government because the Catalan state subsidises people's medicines.
The Catalan government blames the Spanish central government for not passing them the necessary funds.
But Ms Morillas believes the Catalan government is using the issue of independence, and these elections, as a "smoke screen" for the region's wider economic problems.
"They're playing with us," she says.
However she does admit that, because of the crisis, there is a feeling of needing to "take back what is ours".
"This is stirring-up pro-independence feeling."
Undecided
Sunday's elections will open another chapter in Catalan-Spanish relations.
The polls predict that, between them, nationalist pro-independence parties will win a clear majority in the regional parliament.
But that will not necessarily translate into a majority of people voting "yes" if a referendum can ever be held.
A large part of the Catalan population, particularly those living in the countryside, would jump at the chance to vote in favour of independence.
And many of those with strong ties, business or otherwise, to Spain would vote against. One fifth of people living in Catalonia were born in other parts of Spain.
However on such an important question, a large proportion of people like Monica Morillas are probably still "undecided".
She likes the idea of more devolution for Catalonia but is unsure about "going it alone" from Spain.