France's Hollande in Mittal nationalisation warning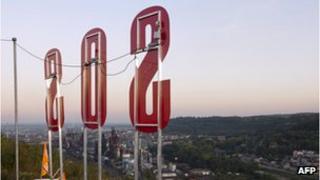 French President Francois Hollande has met the owner of steel giant Arcelor Mittal, after saying he would discuss nationalising one of its plants.
He earlier said nationalisation would be "part of the subjects of the discussion" when he met Lakshmi Mittal.
The multinational has given the government until Saturday to find a buyer for two furnaces at its steel plant in Florange.
It has refused to sell the entire site, for which two offers have been made.
The move has angered the government as well as the 629 workers at the plant in the traditional steel town in north-eastern France who face losing their jobs.
"We are concerned about the situation in Florange, because there is a risk that the furnaces will be shut down definitively: that's Mr Mittal's intention, and we've argued that there could be other offers," Mr Hollande told reporters, shortly before meeting Mr Mittal.
The Indian-born chief executive came and went from the Elysee Palace by the back door, but the outcome of the meeting was not yet known, BBC Paris correspondent Christian Fraser said.
'Temporary mechanism'
Arcelor Mittal - which employs some 20,000 people across France - announced in October that it intended to shut down the Florange plant's already inactive furnaces, saying they were uncompetitive in such difficult trading times.
The company gave the government 60 days in which to find a buyer for the furnaces, a deadline which expires on Saturday.
The move provoked an angry reaction from the French government, which accused Arcelor Mittal of breaking a 2006 commitment to keep the blast furnaces running - a claim denied by the steel giant - and criticised the firm for refusing to sell off the site as a whole.
France's minister for industrial recovery, Arnaud Montebourg, accused the steelmaker on Monday of "lying" and "disrespecting" the country. He has since retracted a remark that Arcelor Mittal was no longer welcome in France.
French Finance Minister Pierre Moscovici has sought to play down fears that Mr Hollande's Socialist government might be seeking to nationalise large firms on a permanent basis.
He described the possible nationalisation of the Florange plant as a "temporary mechanism".
"This is not about returning to an older way of thinking, carrying out massive, general, permanent nationalisations," AFP news agency quoted him as saying, after a meeting with US and British investors in Paris.
But business leaders in France have expressed concern that the government's rhetoric is undermining confidence in French industry, our correspondent says.
Mr Hollande's meeting with Mr Mittal came on the day when French unemployment figures rose again, to its highest level since April 1998.
The number of people looking for work rose by 45,400 in October to top 3.1 million, labour ministry figures showed.