'New evidence in plot' to overthrow Russian government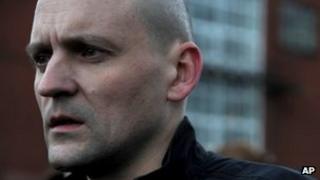 Russia's top investigative body says it has new evidence anti-Putin activists were conspiring to overthrow the government with foreign backing.
Sergei Udaltsov and two other opposition figures were charged last month with plotting mass disorder.
Russia's FBI-style Investigative Committee (SK) now accuses opposition supporters of being trained abroad to prepare for the alleged coup.
Mr Udaltsov has rejected the claims as an attempt to discredit the opposition.
The leader of the radical Left Front Coalition was arrested along with Leonid Razvozzhayev and Konstantin Lebedev after the plot allegation first aired in a documentary on Russia's NTV channel in October.
The station, which is seen as close to the Kremlin, broadcast what it said was hidden-camera footage of Mr Udaltsov meeting officials from Georgia to discuss mounting a coup in Russia.
Opposition supporters dismissed the film, entitled Anatomy Of A Protest II, as a piece of crude black propaganda but the SK used it as evidence to begin an investigation.
If convicted, Mr Udaltsov and the others face prison sentences of between four and 10 years.
"The investigation has moved further," SK spokesman Vladimir Markin said.
There was new proof that the trio had been conspiring with "foreign citizens" to overthrow President Vladimir Putin in a coup inspired by the revolutions which toppled leaders in Ukraine and Georgia, he said.
As part of the plan, opposition supporters received overseas training for "organising and conducting mass riots with the purpose of overthrowing the government", Mr Markin added.
Mr Udaltsov called the allegations "a pile of garbage".
He has been released from custody, but Mr Razvozzhayev and Mr Lebvedev remain in detention.