Three to be charged over Dutch football linesman death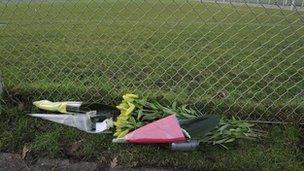 Prosecutors in the Netherlands say they will charge three players in connection with the death of a linesman in a Sunday league football match.
The two 15-year-olds and a 16-year-old will face broad charges in connection with the death of Richard Nieuwenhuizen.
The three remain in custody ahead of their court appearance on Thursday.
The prosecutor's office said the investigation was continuing and witnesses were still being questioned.
Mr Nieuwenhuizen had been running the line for his son's team, Buitenboys. After the match he was attacked by members of the opposition, the Amsterdam club Nieuw Sloten.
He collapsed hours after the assault, fell into a coma and died in hospital on Monday.
The Dutch Football Association has cancelled all amateur matches for the coming weekend as a mark of respect for Mr Nieuwenhuizen. A minute's silence will be observed at professional games.
The assault has been widely condemned in the Netherlands. Sports Minister Edith Schippers, the Dutch FA and the coach of the country's most famous club, Ajax, have expressed disbelief and outrage.
And Sepp Blatter, the president of the world governing body, Fifa, has written to the president of the Dutch FA to express his "sadness and distress".
"Football is a mirror of society and sadly, the same ills that afflict society - in this case violence - also manifest themselves in our game, " Mr Blatter added.
Nieuw Sloten said it intended to ban for life the players found to be responsible, that it had pulled their team from the league and temporarily suspended all its operations as a club.