Child sex abuse: EU and US in web policing alliance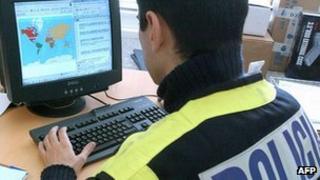 The EU and US authorities have launched a "global alliance" to combat child sexual abuse online.
The launch in Brussels drew in 48 countries pledging to unite their efforts against paedophile networks.
Studies cited by the EU Commission say at least one million child pornography images are now on the internet and about 50,000 more are added annually.
Much remains to be done, officials said in Brussels, despite dozens of arrests in global anti-paedophile operations.
The participating countries aim to boost joint efforts to:
Identify and protect child victims
Investigate cases and prosecute offenders
Increase awareness of risks for children online
Reduce the availability of child pornography online.
Along with the 27 EU member states and the US, the alliance includes: Australia, New Zealand, Cambodia, Thailand, the Philippines, Japan, Vietnam, South Korea, Nigeria, Switzerland, Turkey and Ukraine.
The EU Commissioner for Home Affairs, Cecilia Malmstroem, said "our responsibility is to protect children wherever they live and to bring criminals to justice wherever they operate.
"The only way to achieve this is to team up for more intensive and better co-ordinated action worldwide."
Her words were echoed by US Attorney General Eric Holder, who said "threats to our children continue to grow and evolve" and "no single nation will be able to address these challenges".
"We're laying the foundation for a more effective international legal framework, to shut down exploitative online enterprises," he told a joint news conference in Brussels.
Global enforcement
Ms Malmstroem said Russia had been invited to join the alliance but had not yet agreed to do so. She said she was hopeful that Russia would join, and she had discussed the issue with the Russian justice authorities.
The US Department of Justice says its biggest crackdown on a global paedophile network so far happened last year, with Operation Delego, in which 72 suspects were charged in the US and more than 500 others investigated worldwide.
The suspects were linked to a private, members-only online bulletin board called Dreamboard, used to exchange images of child sexual abuse.
In Operation Delego the US authorities co-operated closely with EU crime-fighters, including the justice agency Eurojust and police agency Europol.
In January 2013 a new EU unit at Europol in The Hague, called The European Cyber Crime Centre, will start operations, focusing on tackling child sexual abuse online.