Q&A: Romanian parliamentary election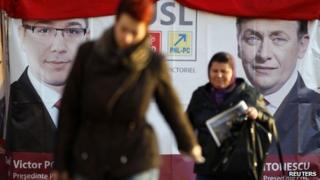 Romanian voters head to the polls on 9 December to choose a new parliament. The election takes place against the background of the failed attempt by the government of Prime Minister Victor Ponta to impeach right-wing President Traian Basescu last summer.
The main intrigue of the election is whether the Ponta-led Social Liberal Union (USL) - in power since May 2012 - will get an outright majority and thus compel the president to nominate Ponta to remain in the prime ministerial post.
Who are the main contenders?
A total of 30 parties, alliances and organisations representing national minorities are running, but only a handful are likely to make it to parliament.
The main competition will be between the Righteous Romania Alliance (ARD), whose senior partner is the opposition Liberal Democratic Party (PLD) backed by President Traian Basescu; and the ruling Social Liberal Union (USL), a coalition led by Prime Minister Victor Ponta (who is also head of its constituent Social Democratic Party).
Two other important contenders are the People's Party - Dan Diaconescu (PP-DD), which was formed in 2010 and is led by media tycoon Dan Diaconescu; and the Democratic Alliance of Hungarians in Romania (UDMR), a party representing Romania's big Hungarian minority.
What do the polls say?
The ruling USL has emerged as a favourite in all opinion polls. According to surveys by pollsters CSOP and IMAS, the union looks set to win between 48 and 57% of the vote. The pro-Basescu ARD is expected to garner 16 to 24% and Dan Diaconescu's PP-DD is polling at about 14%.
The UDMR stands a slim chance of making it to parliament, with polls putting it at some 5.5%.
What are they promising?
All the main contenders pledge to take steps to integrate Romania into the passport-free Schengen area and the eurozone, conduct reforms to spur economic growth, increase wages and pensions, curb corruption and improve Romania's image abroad.
But there are some major differences. For example, the current Prime Minister, Victor Ponta, does not support austerity measures introduced by President Traian Basescu and wants to implement a model of economic growth based on "more jobs, investment and European funds, fewer taxes and loans and less bureaucracy".
The platform of Dan Diaconescu's party is perhaps the most populist. He pledges more jobs and deep tax cuts, 20,000-euro subsidies to entrepreneurs starting a new business and even bathrooms for local families without indoor plumbing. Mr Diaconescu is under investigation in relation to two separate cases, including for fraud in a failed privatisation deal. He has dismissed the charges as an attack by "the system" against a political outsider.
What are the post-election scenarios?
If the polls are right, the ruling USL could win a parliamentary majority and will nominate the prime minister.
However, if it manages to secure fewer than half of the seats in parliament, it would then be able to propose a future cabinet leader only with the help of another party. Experts predict that the Ponta-led alliance could join forces with the ethnic Hungarian party, the UDMR.
Under a third - albeit less probable - scenario, neither of the two alliances will secure a parliamentary majority, thus forcing tough negotiations with Mr Diaconescu's PP-DD, and potentially causing a political stalemate.
One way or another, it appears that a crisis is already looming, as the election is highly unlikely to settle the power struggle between President Traian Basescu and Prime Minister Victor Ponta. Mr Basescu has announced that he will try to prevent Mr Ponta from being reappointed as prime minister, partly because of the plagiarism scandal he is involved in. Senate Speaker and Ponta ally Crin Antonescu responded by threatening that the president would be suspended from his post and then dismissed with the votes of the USL in the future parliament.
How is parliament elected?
Romania's parliament is bicameral, with 137 seats in the upper house, the Senate, and 315 in the lower house, the Chamber of Deputies.
A candidate is elected directly if they poll a majority of the valid votes. In districts where no candidate wins a majority, the seats are distributed on a county basis among parties that have crossed the 5% national threshold, according to the proportion of votes they have won.
A party can be represented in parliament even if it has not crossed the 5% threshold providing it wins three senate seats or six Chamber of Deputies seats.
Ethnic minorities are also entitled to one deputy if their candidate gets at least 10% of the average vote needed to elect a member of parliament. Currently there are 18 minorities represented in the Romanian parliament.
BBC Monitoring reports and analyses news from TV, radio, web and print media around the world. For more reports from BBC Monitoring, click here. You can follow BBC Monitoring on Twitter and Facebook.