Dutch football left reeling after linesman's death
By Anna Holligan
BBC News, The Netherlands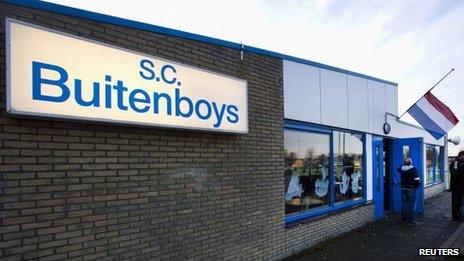 Three Dutch teenagers have appeared in court in the Netherlands in the connection with the death of amateur football linesman Richard Nieuwenhuizen. The Dutch FA are calling it the worst attack on the pitch in the country's history, but others say this is a wake up call to violence that has long existed.
Outside the Buitenboys club, on the pitches where the linesman was kicked and stamped on, a group of five lads are having a casual kick-about in the snow.
In the clubhouse, a table is laden with flowers and sympathy notes offering "strength and support in these hard times".
One of the boys' parents has dropped by with tears in his eyes to sign a book of condolences.
When we compliment the director on the rows of trophies sparkling above the bar, he laughs and says "ah yes, but they are very old". The Buitenboys say their emphasis is on uniting the community rather than winning tournaments.
That makes what happened here even harder to accept, youth team coach Egor van Gelden tells us.
"We never had anything like this. I saw some boys attacking him; I ran over, they were kicking his head. Then I thought I had got rid of them but one ran back and stamped on his head. At least I know I did everything that I could," he said.
Richard Nieuwenhuizen's own son was playing for the home side and, we are told, witnessed his father being ambushed.
While prosecutors continue to investigate the circumstances surrounding the linesman's death, the events that took place at this small club have sent ripples of unease across a football-crazy nation.
Huub Bellemakers, an amateur referee and blogger for thepost.nl website, tells us about his own experience of violence.
"He came at me, calling me all kinds of stuff, then I showed him the red card and then he just boom, he gave me a head-butt." He shrugs, like it's nothing.
"This kind of thing happens all the time. Kids who are six see their parents screaming at the ref and questioning every decision, the lack of respect just starts early and it gets worse," he says.
"It's partly the culture, we Dutch people don't like being told what to do and can't accept when we are wrong, but maybe now this will make us think about the rules and how we can protect people."
Renske Bruinsma, press relations officer for the Dutch Football Association (KNVB), has been imploring the public for help.
"If you have any ideas on what we should do to stop it then tell us, please. Because honestly, right now we don't know."
The organisation was criticised for not reacting fast enough. Now at their busy headquarters in a wooded area, around an hour's drive from the Buitenboys club, flags droop at half-mast.
This weekend all amateur fixtures have been called off, but the professionals will play. The Dutch FA believes the best way to force fans to reflect is to hold a minute's silence before all top-level games.
And Renske Bruinsma believes that the pros must also acknowledge their responsibilities: "Yes, they are role-models and they need to think about when the younger players see them do something good they want to copy that, but also when they do something bad.
"We have to look at the whole culture, not just the top players but everyone, the parents, the clubs - football is our beautiful game and we want to keep it this way."
Last month a Dutch player was jailed for killing a fan after karate-kicking him in the chest.
Now, the actions of a few amateurs in Almere have penetrated the heart of the country's most popular sport. But many are asking, will the death of one linesman actually change the culture?