Silvio Berlusconi's party rebels in Italian parliament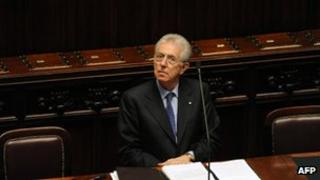 The party of former Italian PM Silvio Berlusconi has abstained from confidence votes in parliament.
Prime Minister Mario Monti's government won votes in both houses, but the move by Mr Berlusconi's party has prompted warnings of a political crisis.
President Giorgio Napolitano said he wanted to avoid a "turbulent" end to Mr Monti's technocratic government.
A senior figure in Mr Berlusconi's party meanwhile said he would run again in elections next year.
Mr Monti replaced Mr Berlusconi as prime minster just over a year ago, and launched a programme of reforms aimed at pulling Italy out of economic crisis.
Markets reacted nervously to the fresh political tension, with the Milan stock market dipping and the difference in premiums demanded by investors to buy Italian rather than German 10-year bonds widening.
Fabrizio Cicchitto, the leader of the centre-right People of Freedom (PDL) in the lower house, said the party abstained from the vote "to show our strongly critical view of their economic policies".
But he later indicated that the PDL would not attempt to bring down the government.
"We will do our duty to the utmost to... allow the chamber to operate," he was quoted as saying by Reuters news agency.
After the Senate vote, the centre-left raised the prospect of elections being called before the expected date in March 2013.
"We have to understand if it was an abstention on a single vote or a broader political abstention," said Democratic Party (PD) leader Pier Luigi Bersani.
But President Napolitano said there was no need for the government to fall.
"There are pre-electoral political tensions that even outside Italy can be understood without causing alarm about the institutional strength of our country," he said.
Recent opinion polls suggest that the PD currently has a comfortable lead over the PDL.
Mr Berlusconi, 76, appeared on Wednesday to be rowing back on statements that he would not run in 2013.
"I am being assailed by requests to return to the field as soon as possible," he said after a meeting of party leaders.
"Italy today is on the edge of a cliff. I cannot allow this," he said, claiming that the situation now was "far worse than when I left office last year".
His party later said it had called off a primary that was going to be held to decide who would lead it into a general election in the spring. According to the party, Mr Berlusconi will head its list of candidates and lead the party into the election.
In response, economic development minister Corrado Passera said it would not be good for Italy's image abroad "to go back".
"We need to give the sensation that the country is moving ahead," Mr Passera said.
Mr Monti defended the government's record on Thursday, saying it had largely succeeded in putting the country in a safe position and "preventing Italy from causing new fires in the Eurozone".