Italy's political crisis unfolded with operatic background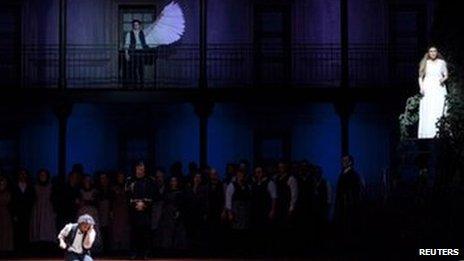 Italy's government of technocrats collapsed on Saturday after former Prime Minister Silvio Berlusconi's party withdrew its support for the administration.
That left his successor, Mario Monti, little option but to announce that he would resign.
As is so often the case in Italy, the drama unfolded in operatic fashion.
Prime Minister Monti, known affectionately as the professor, arrived in Milan amid a flurry of snow on Friday for the opening night at La Scala Opera House - the social event of the season.
The snow had scuppered plans for European Commission President, Jose Manuel Barroso, to travel from Brussels and join him for talks and then the opera, Wagner's Lohengrin.
But friends noticed Mr Monti was unusually tense and pale. He had just heard in parliament a withering attack on his 13-month diet of spending cuts and higher taxes.
It had come from Angelino Alfano, the secretary-general of Silvio Berlusconi's People of Freedom Party (PDL).
The tirade was further evidence of the struggle for power between the university professor who left academia to try to save his country from economic collapse, and the media mogul whose two decades in and out of power - marred by sex scandals and corruption charges - had ended with his resignation over the euro crisis in November 2011.
The seat in the royal box which is reserved for the head of state, President Giorgio Napolitano, remained empty.
He had decided not to attend and was said to be closeted with his advisers back in the Quirinal Palace in Rome, weighing the implications of the latest bid for power by Mr Berlusconi.
At precisely 17:00 (16:00 GMT), conductor Daniel Barenboim raised his baton. But not for the national anthem - an obligatory move in the presence of the Italian president or another head of state.
Instead the audience of the great and the good heard the opening bars of the prelude to Lohengrin - and understood Mr Napolitano was not there.
The national anthem was finally played at the very end of the Wagnerian extravaganza, but the 2,000 euro-a-seat (£1,600) gala audience of politicians and wealthy Milanese glitterati knew that something was up.
Talking with friends during one of the long intervals in the almost five-hour performance, Mr Monti commented tartly: "The Sun King has moved away from me."
It was a sarcastic reference to Mr Berlusconi.
On Saturday evening Mario Monti spent two hours with President Napolitano in Rome. At the conclusion of that meeting he announced he was throwing in the towel.
He will resign as soon as the 2013 budget is passed - possibly this week - and President Napolitano will dissolve parliament before Christmas. Mr Monti will stay on as caretaker and a general election will follow, most likely in February.
Silvio Berlusconi, whose political future had been written off by many observers and whose popularity in opinion polls conducted by independent pollsters remains at an historic low of just 15%, is already at work planning his general election campaign.
He says the Italian people have asked him to return as prime minister. He says they are hurt and angered by the stringent austerity programme prescribed by Mr Monti, which has handed Italian families a bill of 750 euros (£600) more in taxes this year than last.
By announcing his forthcoming resignation as head of the current technocrat government, senator-for-life Mario Monti has adroitly positioned himself as a possible candidate for one of Italy's two top political jobs.
He said during the weekend that he was going to start thinking "like a warrior".
He may have his eye on the largely figurehead presidency, as the seven-year term of Mr Napolitano expires early next year.
Or he could choose a more active political career by joining or - eventually leading - a future centre-left coalition.
Related Internet Links
The BBC is not responsible for the content of external sites.