Eamon Gilmore condemns violence in Northern Ireland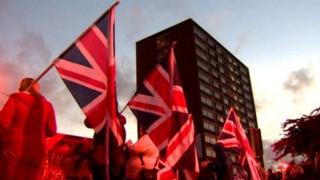 The Republic's Foreign Affairs Minister has described the recent wave of violence in Northern Ireland as "an attack on democracy itself that has no place in the politics of this island".
There have been nine days of loyalist protests following a decision by councillors to limit the number of days the union flag in flown at Belfast City Hall.
The police said members of some loyalist paramilitary groups had been involved in some of the violent protests.
Death threats have also been made against several senior politicians since the decision.
Speaking in the Dail on Tuesday, Tanaiste (deputy prime minister) Eamon Gilmore called for an immediate end to the intimidation of public representatives and their families.
"The scenes of violence and intimidation remind us of the need for steady support for the peace process," he said.
"The Irish government continues to stand together with the people of Northern Ireland to make sure that they never again suffer through violent conflict."
Conflict resolution
Mr Gilmore said he had spoken with the Northern Ireland Secretary of State, Theresa Villiers, about the violence.
"The parties in Northern Ireland must learn to resolve issues around flags and symbols in a respectful and consensual way, as we work towards a society based on respect for difference, and tolerance for the traditions and multiple identities on this island," he said.
The Tánaiste also highlighted the disruption to businesses in Belfast in the last weeks before Christmas.
"Northern Ireland has developed a justified reputation for dynamism, underlined by the opening of flagship visitor attractions at the Giants Causeway and the Titanic Quarter, the hosting of the Irish Open at Portrush and the awarding of City of Culture to Derry," he said.
"Now is the moment for responsible political leadership and we must all be conscious that our interventions should seek to calm rather than inflame tensions."
Alliance party members and premises have been targeted since last Monday's vote on the city hall flag.
Alliance, Sinn Fein and SDLP councillors voted to limit the flying of the flag while the Democratic Unionist Party (DUP) and Ulster Unionists (UUP) opposed the move.