Macedonia budget sparks protests in front of parliament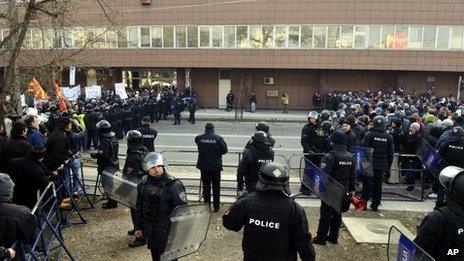 Thousands of rival protesters have gathered in front of the parliament building in the Macedonian capital Skopje in a row over the 2013 budget.
MPs from the opposition Social Democrats blockaded themselves in the building on Sunday to stop the budget, which they say is wasteful.
Police moved in to separate Social Democrat supporters from those of the ruling coalition.
The opposition say the budget will add to country's debt burden.
They have suggested around 1,000 amendments to the budget to bring down spending, reportedly accusing the government of planning spending for grandiose monuments, expensive cars and furniture.
They accuse the ruling coalition of abusing parliamentary process by pushing for a vote on the budget before amendments had been considered.
"If those in power continue down this path they will suspend the constitution... and kill democracy in Macedonia before our eyes," Social Democrat leader Branko Crvenkovski told reporters.