Portugal set for major tax rises as 2013 budget hits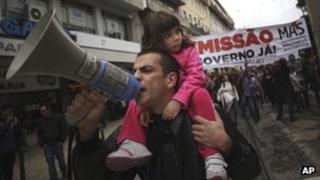 Portugal's president has signed into law a controversial 2013 budget imposing big tax increases.
The budget takes effect on Tuesday, but correspondents say it may yet be challenged in the constitutional court.
For most Portuguese workers the tax rises are equivalent to more than a month's wages. The standard income tax rate is rising from 24.5% to 28.5%.
The savings are Portugal's toughest in living memory, aimed at meeting the terms of a 78bn-euro (£64bn) bailout.
Although President Anibal Cavaco Silva signed the budget there is speculation that he may ask the constitutional court judges to check its legality.
Earlier Portugal's Finance Minister, Vitor Gaspar, admitted the tax rises were "enormous", but were "another determined step toward recovery".
There have been big street protests against the cuts and on 14 November there was a general strike by angry workers hit by economic hardship.
Parliament approved the budget in November despite heated debate and opposition from left-wing MPs.
Portugal's economy is projected to have shrunk 3% this year, and another contraction of at least 1% is expected next year, making it the third year of recession.
The unemployment rate has risen to nearly 16%.
Portugal was granted a bailout by the eurozone and International Monetary Fund in 2011, under the terms of which Portugal must rein in spending sharply.
Portugal has already received 61bn euros of its total bailout.