Turkey and PKK's Ocalan in talks 'on disarmament'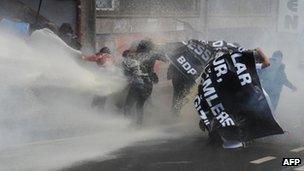 Turkey is holding talks with the jailed head of the PKK Kurdish militant group, Abdullah Ocalan, to push for its disarmament, officials say.
Ocalan, who has been found guilty of treason, is being held in solitary confinement on a remote island prison.
The Turkish prime minister's top political adviser said the government would not be able to bring the conflict to an end by military means alone.
Last year saw a surge in violence in the three-decades-old insurgency.
Prime ministerial adviser Yalcin Akdogan said the intelligence services were holding discussions with Ocalan.
"The goal is the disarmament of the PKK (Kurdistan Workers' Party)," he said in an interview with NTV television.
"The government supports any dialogue to this end that could result in a halt to violence."
"You cannot get results and abolish an organisation only with armed struggle."
He said Ocalan was the "main actor" in efforts to resolve the Kurdish conflict. However he questioned whether Ocalan fully controlled the more hawkish PKK militants operating from northern Iraq.
Turkey's Hurriyet newspaper said officials from the National Intelligence Organisation held a four-hour meeting with Ocalan on 23 December.
Ocalan was sentenced to death in 1999, though that was later commuted to life imprisonment following the abolition of the death penalty in Turkey in 2002.
The PKK has waged a guerrilla campaign in south-east Turkey for more than 25 years, attempting to establish an ethnic homeland for the Kurdish people. Some 40,000 people, including civilians, have died in the conflict.
The conflict has reached its fiercest intensity in years during 2012, with the PKK stepping up its attacks on security forces. But the Hurriyet newspaper says the group has halted operations due to winter conditions.
The Kurdish minority are thought to make up more than 20% of the population of Turkey.
Related Internet Links
The BBC is not responsible for the content of external sites.