Paris apartment fire kills five in Gennevilliers suburb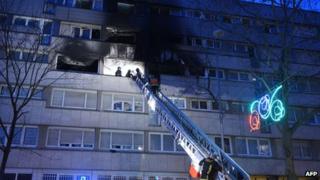 An apartment fire has killed a couple, their two children and a teenage friend in Gennevilliers, a deprived northern suburb of Paris.
The blaze happened early on Wednesday. The family lived in a flat on the fourth floor of the seven-storey block.
Eighteen people, including an infant, were hurt and most are now in hospital. About 100 firefighters tackled the fire, using a ladder to rescue people.
French media report that the building was in good condition.
The youngsters who died were aged 12, 15 and 18.
It is not yet clear how the fire started.
Two firefighters who suffered burns to their hands were among the 18 injured.
The fire broke out shortly after 04:00 local time (03:00 GMT) and was extinguished at about 06:00. It had engulfed two apartments, one above the other, but the firefighters managed to prevent it spreading further through the building.
French Interior Minister Manuel Valls, who visited the scene later with Housing Minister Cecile Duflot, said "we met a family devastated by grief, trying to comprehend what has happened".
A local resident interviewed by French TF1 television said the apartment block was "in very good condition".
The firefighters' spokesman Frederic Grosjean confirmed that "the block was in perfectly good shape - we had no difficulty getting access to the floors".
A second local witness told the television that he heard an explosion, then saw massive flames shooting upwards from the lower flat.
In 2005 there was an outcry over apartment fires in Paris which killed nearly 50 people living in overcrowded, dilapidated rooms.