Basque nationalists Batasuna disband French party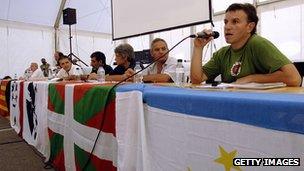 Basque nationalist group Batasuna has announced it is closing down its party in France.
It had continued to operate in the French Basque country after it was banned in Spain in 2003 for its links to armed separatist group Eta.
Batasuna was once a powerful voice for Basque separatism, running local councils in Spain and winning seats in the European Parliament.
But since 2003 its influence has waned and its membership has fragmented.
Batasuna was never as influential in France as it was in Spain.
It contested a parliamentary election last year, but had no success.
One of its figureheads, Aurore Martin, was deported to Spain in November on suspicion of involvement in terrorism. She was released on bail two weeks ago.
At a news conference in Bayonne senior leaders Maite Goyenetxe and Jean-Claude Aguerre said the party was disbanding, but they would continue to press for an independent Basque nation.
"We affirm that we will achieve the project of building Euskal Herria [a Basque nation] only by political means, in the face of the oppressive French and Spanish states," said Ms Goyenetxe.
Many former Spanish members of Batasuna have coalesced round a left-wing coalition, Euskal Herria Bildu, which was created last year.
Previous attempts to create a successor party to Batasuna in Spain had been struck down by the courts.
Eta itself renounced violence in 2011 after a 40-year campaign that claimed about 800 lives.