Czech president's mass prison amnesty draws protests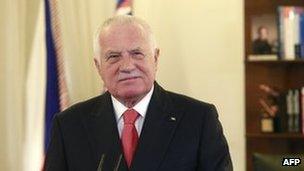 A decision by outgoing Czech President Vaclav Klaus to give amnesty to nearly a third of prisoners has drawn protests and raised concerns in legal circles.
Mr Klaus, who is due to step down in March, announced the move in a new year's message on Tuesday, as a gesture to mark 20 years of independence.
Some 3,000 inmates have already been freed, with more than 4,000 expected to join them in the coming days.
Prisoners serving sentences of more than 10 years are not affected.
Everyone serving a term less than one year is eligible for release, as are all prisoners over the age of 75, provided their sentence was less than 10 years.
The justice ministry said judges were ready to work around the clock to implement the pardon because they have to visit each of more than 30 prisons and assess every prisoner who may qualify for release.
Supporters of the amnesty say it will reduce prison overcrowding.
The Czech Republic formally became an independent state on 1 January 1993 after peacefully splitting from Slovakia, three years after the "Velvet Revolution" against Soviet dominance.
Explaining his decision in the Czech newspaper Dnes, Mr Klaus said: "This is a gesture aimed at giving a fresh chance to those citizens who may have broken the law but who are not repeat offenders."
The head of the supreme court, Iva Brozova, said she feared the move might undermine the rule of law.
She said she could not see the justification for a mass amnesty but acknowledged that the president was entitled to take the decision.
The opposition are demanding a vote of no confidence in centre-right Prime Minister Petr Necas because he supported the mass pardon.
They appear to be particularly angry because the amnesty also means that several big financial fraud cases will now stop because court proceedings have lasted for more than eight years.
Prosecutions to be halted include that of prominent businessman Tomas Pitr for alleged tax fraud and that of former football association chief Frantisek Chvalovsky for embezzlement.
Social Democrat politician Jiri Dienstbier - son of the late former dissident of the same name - described President Klaus's decision as "unacceptable and incomprehensible".
Mr Dienstbier is standing in the Czech Republic's first direct presidential election in March, when Mr Klaus, 71, must stand down, having served two terms.
Related Internet Links
The BBC is not responsible for the content of external sites.