Spain Malaga: Jobless man 'burns himself to death'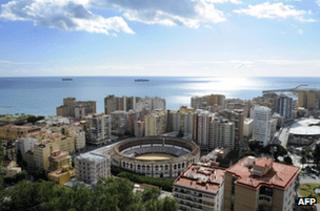 A jobless man in the southern Spanish city of Malaga has died in hospital a day after apparently setting himself ablaze in the street.
Neighbours and witnesses told Spanish newspapers that the 57-year-old, of North African origin, was suffering from financial problems.
Police are investigating the incident, which occurred on Wednesday evening.
Another man is being treated in the same hospital apparently after setting himself alight in Malaga on Thursday.
The 63-year-old was found with serious injuries beside his burning car under a road bridge, police said.
No other details were given of that man but, according to Spain's El Mundo newspaper, preliminary investigations indicated that the fire had been lit intentionally.
The circumstances in which the North African man caught fire are still unclear, with suggestions that he may have ignited his clothing accidentally with a lighter.
However, unnamed hospital sources quoted by El Mundo said the severity of his injuries, and speed with which the fire had spread, suggested his action had been deliberate.
Spanish media have reported a number of cases in recent months of people facing poverty in the country's recession killing themselves.