Q&A: Czech presidential election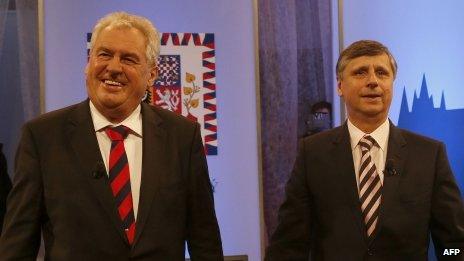 Voters in the Czech Republic will be able to choose their president for the first time on 11-12 January. If no candidate wins an absolute majority, a run-off will be held two weeks later.
In all previous presidential elections since the dissolution of Czechoslovakia and the adoption of a new constitution in 1992, the president has been chosen by parliament.
Why was the system changed?
When President Vaclav Klaus was narrowly re-elected for a second five-year term in 2008, critics of the indirect election process alleged that it was not sufficiently transparent and gave the impression that an agreement between the various political factions was only reached after protracted back-room deal-making.
The controversy over Klaus's re-election meant that when Petr Necas, the leader of the centre-right Civic Democrat party (ODS), was attempting to form a government after the 2010 parliamentary elections, several of his prospective coalition partners made their cooperation conditional on the new government making reform of the presidential election system part of its programme.
In December 2011, the lower house of the Czech parliament, the Chamber of Deputies, approved an amendment to the constitution allowing for direct presidential elections. The amendment was approved by the Senate in February 2012.
Is everyone happy with the change?
There was opposition to the election bill both from within the ODS and from some members of the opposition. The most prominent opponent of the bill was President Klaus, who described it as a "fatal mistake" and said the country was not yet ready for such a move. Klaus argued that a directly elected president would have greater popular authority and that this could undermine the Czech Republic's parliamentary system of government.
The head of the country's Constitutional Court, Pavel Rychetsky, is also an outspoken critic of the change of system. He argues that the amendment to the constitution is badly thought out and that a disputed election result could give rise to endless legal wrangling.
Nine people have had their applications to stand in the election officially accepted. In order to qualify, they either had to collect a minimum of 50,000 signatures in support of their candidacy, or demonstrate the support of 20 members of the Chamber of Deputies or 10 members of the Senate.
Two former prime ministers, Jan Fischer and Milos Zeman, are the frontrunners according to opinion polls. Other candidates include Foreign Minister Karel Schwarzenberg, current and former senators and MEPs as well as two artists.
BBC Monitoring reports and analyses news from TV, radio, web and print media around the world. For more reports from BBC Monitoring, click here. You can follow BBC Monitoring on Twitter and Facebook.
Related Internet Links
The BBC is not responsible for the content of external sites.