Depardieu fails to attend court on drink-drive charge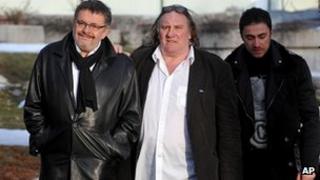 Gerard Depardieu has failed to appear in a French court where he faces a drink-driving charge, days after taking Russian citizenship in a tax row.
The actor, who was in Montenegro on Tuesday, denied he was a fugitive. He said the trip had been planned and he was ready to face justice "any time".
A late request for an adjournment had been refused by the prosecutor.
Depardieu has signalled he will plead guilty which will probably lead to a fine and a penalty on his licence.
But his absence, and a second postponement of the case, will mean it is sent to the criminal court, where the judges are often less lenient.
He was in Montenegro preparing for a film he will begin shooting shortly and meeting officials.
After talks with Prime Minister Milo Djukanovic, he told reporters: "I did not flee judges or justice. The trip to Montenegro had been planned. I notified the court. I am ready to see them any time they like, provided I'm here to defend myself."
The case centres on an incident in November, when Depardieu crashed his scooter in Paris while driving with three times the legal limit of alcohol in his blood.
'Still French'
It is yet another brush with the French authorities. He has publicly opposed plans by the Socialist government to institute a top tax rate of 75%, and last month announced he was moving to Belgium.
French Prime Minister Jean-Marc Ayrault branded the decision as "shabby". The film star in turn accused France's Socialist government of punishing "success, creation and talent".
The film star received a Russian passport at the weekend but retains his French citizenship.
He has developed close ties with Russia and during his visit at the weekend hugged President Vladimir Putin, who described him as a friend.
Moscow has offered him a flat tax rate of 13% if he stays in the country for more than half the year. On his trip to Russia he travelled to the central region of Mordovia, which has invited him to make his home there.
But the actor said on Monday he was not turning his back on his country.
"I have a Russian passport, but I remain French and I will probably have dual Belgian nationality," he told French sports channel L'Equipe 21.
Depardieu also denied that his decision to move abroad was to avoid paying taxes. "If I'd wanted to escape the taxman, as the French press say, I would have done it a long time ago."
In his new film, he will play the disgraced former French finance minister and head of the International Monetary Fund, Dominique Strauss-Kahn, a man Depardieu has called "a little like all French people, a little arrogant".