Turkey halts flights due to heavy snow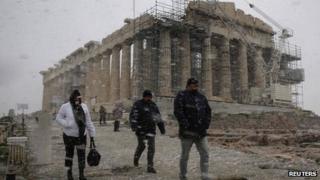 Turkey has been forced to cancel dozens of flights and temporarily close a key shipping channel because of heavy snow.
Turkish Airlines announced on its website the cancellation of 76 flights scheduled for Tuesday and Wednesday. It had halted flights on Monday.
The Bosphorus Strait, near Istanbul, was temporarily shut for all northbound and southbound vessels on Tuesday morning because of poor visibility.
Greece has also been hit by a cold snap and heavy snowfalls.
The drop in temperature in Greece was sudden and forced the authorities in Athens to scramble quickly to help the city's homeless, Reuters news agency reports.
George Apostolopoulos, director of homeless projects in Athens, called for "everyone's support" in trying to help the homeless into temporary shelters or hand out extra blankets and food.
Traffic for all northbound and southbound vessels was suspended through the Bosphorus Strait at 11:45 local time (09:45 GMT) because of poor visibility, Reuters quoted shipping agent GAC as saying.
The lanes opened within a couple of hours but traffic has been heavily-reduced, the BBC has been told.
The Bosphorus Strait is one of the world's busiest waterways and a vital route for the shipping of oil, mainly from Russia.