Irish woman Marie Fleming loses assisted death plea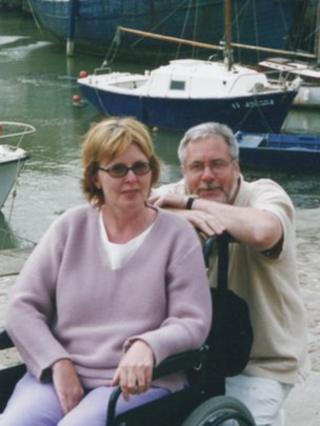 A terminally-ill woman has lost a landmark case for someone to assist her suicide in Ireland without being jailed.
Marie Fleming, 58, who has multiple sclerosis, took the legal action against the Irish state to fight for the right to end her life with the help of her partner.
On Thursday, three judges at the High Court in Dublin unanimously ruled they could not support a third party to bring about the death of another.
Ms Fleming, a former university lecturer, pleaded last month with a specially-convened hearing to spare her a horrible death and let her be helped to die lawfully with dignity, surrounded by her family.
Suicide was decriminalised in the Republic of Ireland in 1993.
However, the ban on assisting another person to commit suicide remains in force and a jail sentence of up to 14 years may be imposed for that offence.
Ms Fleming, a former lecturer at University College Dublin (UCD), is cared for by her partner, Tom Curran, at their home in County Wicklow.
The mother of two adult children challenged the constitutionality of the Criminal Law Suicide Act 1993, alleging it discriminates between able-bodied and disabled people.