Why Vaclav Klaus divides Czechs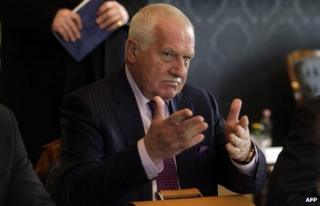 Vaclav Klaus - free market devotee and the bane of Brussels bureaucrats - will step down on 7 March after 23 years at the top of Czech politics. Few, however, believe he will spend his retirement on the golf course.
With the end of his term of office fast approaching, Mr Klaus is now facing a trial.
Senators voted for the constitutional court to rule whether he had committed treason over a number of acts, including a New Year's Day general amnesty which sparked great controversy. Senators also want him to account for his persistent refusal to sign international treaties, amongst other charges.
Mr Klaus is a bit like modern jazz. You either love him or hate him. The veteran politician - who served as finance minister and prime minister before succeeding arch-rival Vaclav Havel as president in 2003 - arouses strong passions.
"Mr Klaus is a man of two faces," said Petr Honzejk, a commentator for leading financial daily Hospodarske Noviny.
"I would even say there are two Klauses," he told the BBC.
"The first is the man who oversaw economic transformation without the serious social problems experienced by other Central European countries. He taught Czechs capitalism.
"But, in the late 1990s, Klaus's political record began to get worse. He started to ignore corruption and bribery. And if you look at his presidential tenure since 2003, you find so much populism and Europhobia.
"In the early 1990s I was very much in favour of Mr Klaus. Now I´m quite the opposite. He deserves nothing else."
Blue Planet thinking
Certainly Mr Klaus seems almost to relish making enemies.
Most journalists have anecdotes of being sneered at or, worse, ostentatiously ignored by him. Tales of his haughtiness are legend.
Once, arriving for a TV interview at the Australian parliament, he refused to walk through a metal detector. It was not a fitting entrance for a president. The interview was cancelled.
His views on the environment are known around the world. He is the only head of state to openly challenge the assertion of the Intergovernmental Panel on Climate Change (IPCC) that global warming is man-made.
His book, A Blue, Not Green Planet, has been translated into 20 languages. He is unafraid to speak his mind.
Across town, in the offices of his PR firm, Tomas Jirsa reflected on Mr Klaus's legacy.
The former deputy chairman of the Czech Young Conservatives was rather more charitable, especially when it came to the president's critical views on Europe.
"Vaclav Klaus is one of the most - maybe the most - consistent politicians in his opinions," Mr Jirsa told the BBC.
"When in the early '90s he was openly critical of European integration, he was labelled as some kind of outcast, someone completely outside of the spectrum of European discussion.
"That was back in the '90s. Today, I think with those same opinions, and the reality changing the way it's changing, all of a sudden he's in the mainstream."
But even some Klaus supporters were outraged on 1 January when he announced a far-reaching amnesty.
It was not the decision to free some 7,000 prisoners serving sentences of up to a year or cancel all suspended sentences, but rather his move to halt the prosecution of cases that had dragged on for more than eight years.
In one fell swoop, a dozen high-profile corruption cases - cases that involve millions of dollars in asset-stripping, bribes and fraud - were thrown out. It was a move that caused widespread public anger.
Still fighting
So far some 600 local councils have taken down Mr Klaus's portrait in protest. The ferocity of the response appeared to have taken even the president by surprise. He was soon on the defensive and took to the airways to state his case.
"This cheap, one-sided, mendacious campaign carried out by the media and politicians against the amnesty is in essence the continuation of something I'm already well acquainted with," President Klaus said in a special address broadcast during Czech television's main evening news.
"It's not about those convicted, or those released, or those accused of asset-stripping, or those victims of crime. It's about attacking me personally, as my presidency draws to a close.
"It's a sign that my political opponents are afraid of my future role in public life."
He has not reacted yet to news of the landmark vote, although he previously described the Senate's decision to debate the charges as "a political game". It is also unclear exactly what a guilty verdict would signify for the soon to be former president.
Mr Klaus will no longer be in office when the constitutional court delivers its ruling, and the biggest sanction he would face is the loss of his presidential pension. But it would certainly be a stain on what is already a rather mixed legacy.
So, with just a few hours left before Vaclav Klaus leaves Prague Castle (there's even a website, Klaus Countdown), the old battle lines are being drawn. Klaus haters and Klaus lovers are manning the barricades, this time on Facebook and Twitter.
No-one knows what role he will play in future beyond overseeing a think-tank - the Vaclav Klaus Institute - in Prague. Possibly he himself does not know. But few believe he is ready to give up waging his personal war - against European integration, against environmentalism, against misquotation.
After 23 years on the political battlefield, the old warrior still has plenty of fight left.