US adoptions of Russian children: Some to go ahead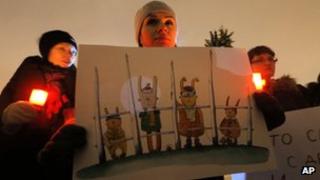 Russian children whose adoptions have already been approved by a court will be able to join their new families in the United States, the Kremlin says.
Presidential spokesman Dmitry Peskov said: "Those who have received a court decision will go. Those who do not have a decision will not go."
The ban was signed for 1 January in response to a US decision to blacklist Russian officials accused of abuses.
But it has been complicated by a bilateral agreement on adoption.
Mr Peskov said on Thursday that the agreement between Russia and the US on adoption regulations "remains in effect" and, under its terms, must do so until January 2014.
Russian officials said at least 52 cases were being processed when the ban was signed in late December. A handful of those are believed to have been given court approval.
The US state department, however, says it believes as many as 1,000 US families are in the various stages of trying to adopt children from Russia.
Spokeswoman Victoria Nuland said earlier in the week that they were working with the Russian government on the issue and were "very hopeful" that they can complete the cases that had begun before the law was passed.
'Unfriendly' Act
President Putin approved the ban as part of a Russian law passed to retaliate against the US Magnitsky Act, which blacklists Russian officials accused of rights abuses.
The US act was named after anti-corruption lawyer Sergei Magnitsky, whose death became a symbol of the fight against corruption in Russia and soured relations between Russia and the US.
Magnitsky represented London-based Hermitage Capital Management (HCM). He uncovered what he described as a web of corruption involving Russian tax officials, including the alleged theft of more than $200m (£125m).
After reporting it to the authorities, he was himself detained on suspicion of aiding tax evasion, and died in custody on 16 November 2009 at the age of 37.
In December, a Moscow court acquitted a prison doctor accused of negligence over Magnitsky's death. It was the only trial to be held in the case.
Russia has described the Magnitsky Act as "unfriendly".
The US has condemned Moscow's "politically motivated decision" to stop Americans adopting Russian children.
Some 3,400 Russian children were adopted by foreign families in 2011, with almost a third of the children going to American homes.
Over the same period, the number of children adopted by Russian citizens was 7,416.
In the past two decades, Americans have adopted more than 60,000 Russian children.